♕ Today's Promise: "Immediately Jesus extended His hand and caught him, saying to him, "O you of little faith, why did you doubt?" And when they got into the boat, the wind ceased." Matthew 14:30-32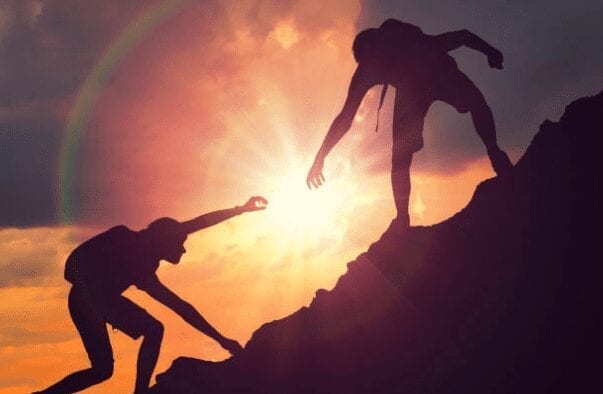 Words of Encouragement
Matthew 14:24-33 AMP
But the boat [by this time] was already a long distance from land, tossed and battered by the waves; for the wind was against them. And in the fourth watch of the night (3:00-6:00 a.m.) Jesus came to them, walking on the sea. When the disciples saw Him walking on the sea, they were terrified, and said, "It is a ghost!" And they cried out in fear. But immediately He spoke to them, saying, "Take courage, it is I! Do not be afraid!" Peter replied to Him, "Lord, if it is [really] You, command me to come to You on the water." He said, "Come!" So Peter got out of the boat, and walked on the water and came toward Jesus. But when he saw [the effects of] the wind, he was frightened, and he began to sink, and he cried out, "Lord, save me!" Immediately Jesus extended His hand and caught him, saying to him, "O you of little faith, why did you doubt?" ' And when they got into the boat, the wind ceased. Then those in the boat worshiped Him [with awe-inspired reverence], saying, "Truly You are the Son of God!"
Step out of the boat
By the time Peter came to step out of the boat towards Jesus, he had spent many hours, many days, walking, talking, and observing Jesus in the flesh as he taught and just lived his life on earth.
So when he saw Jesus walking on the water, and heard Jesus shout "Take courage, it is I! Do not be afraid!", Peter was like, well if He can do that, why can't I? It may have been a spur of the moment decision, but this was faith, belief and hope in Christ that was based on his real experience of seeing Jesus at work.
Interestingly though, even understanding all that Peter did not make any move without first confirming that it was the Lord's will, by asking "Lord, if it is [really] You, command me to come to You on the water."
Upon hearing "come", He stepped out of the boat.
Peter in many ways had done all things right, He was steeped in the word, Faith high, watching, learning, absorbing the life of Christ.  So Why did he sink? We all know the answer to this question, He took his eyes off Jesus, he suddenly forgot all that he knew, he became, swamped with doubt and uncertainty,
This happens to us all, we all fall, what makes the difference is how we act.  To Peter, the Lord extended his hand, Peter grabbed hold of it, and then walked back to the boat with Jesus - yes, he walked back on the surface of the water! He was still surrounded by storm and waves, but he was sure and certain of who he was walking with.  Only when they had returned to the boat did the storm cease.
You are going to get tested so many times. I cannot prepare you enough. You have observed all the steps we have discussed in the past few weeks so as not to fall away. Your shield of faith must be up.
In the last four messages, we discussed overcoming obstacles in your mind (the battlefield of the mind), Standing on the word, walking in faith, Hoping in Christ and finally Believing in Christ.
These steps are not only fundamental to our walk in the Lord and provide for us a stable platform on which to place our faith, but are the basis upon which we should continue once we are reunited with our spouse, not just in our marriage, but in our personal relationship with Jesus.