♕ Promessa de hoje: "These four were descendants of Rapha in Gath, and they fell at the hands of David and his men." 2 Samuel 21:22 (NIV)
♕ Today's Promise: "These four were descendants of Rapha in Gath, and they fell at the hands of David and his men." 2 Samuel 21:22 (NIV)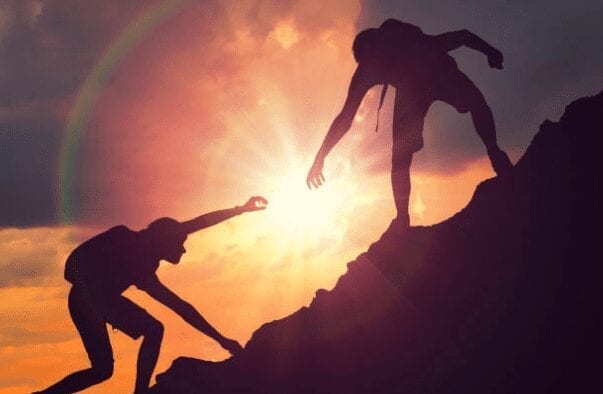 Words of Encouragement
(English at the bottom)
Pai, em nome de Jesus, agradeço ao Senhor pela maravilhosa oportunidade de conhecer melhor a Tua Maravilhosa Graça! Muito obrigado Amado de minha alma!
"De novo, fizeram os filisteus guerra contra Israel. Desceu Davi com os seus homens, e pelejaram contra os filisteus, ficando Davi mui fatigado."
2 Samuel 21:15 (ARA)
Meus queridos, talvez este seja o estado atual da tua alma. Após incessantes lutas, intensas e mui desafiadoras, vamos perdendo o vigor e compreendendo que precisamos de descanso. Mas que descanso é este? É parar tudo? Deixar de buscar o nosso Amado, deixar de louvar, deixar de adorar? É abrir mão de tudo e simplesmente repousar a carne numa cama ou sofá? O descanso da alma fatigada pelas batalhas só pode ser encontrado nos braços do nosso Amado Jesus. Não há outro lugar de descanso!
Davi era um homem de Deus. Nem por isto as batalhas cessaram na vida dele. Muito pelo contrário, a vida dele foi uma constante luta. Davi era um homem de guerra. Viveu num tempo onde ser rei, quase que irrevogavelmente, demandava uma destreza em batalhas sem precedentes. E Davi tinha consciência que o êxito dele em combates vinha do Senhor. Será que Ele realmente encarava tudo? Todas as vezes que os inimigos se levantavam, estava Davi em prontidão e o ataque era desferido? Certamente não! Ele sempre consultava ao nosso Senhor sobre qualquer movimento dele. Por que não fazemos o mesmo? Por que saímos abraçando todos os desafios que nos são lançados? Por isto desfalecemos! Lutamos muitas batalhas que muitas vezes não era plano de Deus para nós. Devemos procurar as nossas batalhas vocacionais. Batalhas que irão edificar a tudo e a todos e ainda sim permitir que a glória de Deus seja demonstrada. Qualquer coisa que esteja discrepante à isto, é perda de tempo.
"O cavalo se prepara para a batalha mas a vitória vem do Senhor". Quando Davi descansava, o Senhor lutava por ele, através do seu exército e, ainda sim, Davi levava o mérito!
"Isbi-Benobe descendia dos gigantes; o peso do bronze de sua lança era de trezentos siclos, e estava cingido de uma armadura nova; este intentou matar a Davi. Porém Abisai, filho de Zeruia, socorreu-o, feriu o filisteu e o matou; então, os homens de Davi lhe juraram, dizendo: Nunca mais sairás conosco à peleja, para que não apagues a lâmpada de Israel."
2Samuel 21:16-17 (ARA)
Os que eram por Davi, o protegiam com todo o vigor! Isso é o poder de Deus nas nossas vidas! "Ele enviará os anjos ao seu socorro e não deixará que os seus pés tropecem em uma só pedra". Ele faz!! Muitas vezes não saberemos escolher as nossas batalhas mas Deus enviará circunstâncias que nos ajudarão a perceber o caminho. Com a ajuda dos amigos, Davi pode abdicar de ser um guerreiro em campo para ser somente rei de Israel. Eles queriam garantir a "lâmpada de Israel" acesa. Davi já estava com idade avançada, porém, não perdia o brio para batalha. O seu exército era leal, reconhecia todos os seus feitos e viam que o lugar certo para ele, no momento, era o trono. Ele não fugia da batalha, mas precisou da ajuda de amigos para entender qual luta deveria escolher.
Este exercício é incrivelmente necessário! Sabe por que? Porque as lutas não vão terminar! Elas não vão parar! Ganhou uma hoje? Parabéns!! Amanhã tem mais!! Não tenha pressa para vencer a luta de hoje pois já tem uma nova te esperando! Será que vamos ter que lutar todas? Certo que não! "Confie seus caminhos ao Senhor e Ele endireitará as suas veredas"!
"Depois disto, houve ainda, em Gobe, outra peleja contra os filisteus; então, Sibecai, o husatita, feriu a Safe, que era descendente dos gigantes. Houve ainda, em Gobe, outra peleja contra os filisteus; e Elanã, filho de Jaaré-Oregim, o belemita, feriu a Golias, o geteu, cuja lança tinha a haste como eixo de tecelão. Houve ainda outra peleja; esta foi em Gate, onde estava um homem de grande estatura, que tinha em cada mão e em cada pé seis dedos, vinte e quatro ao todo; também este descendia dos gigantes."
2Samuel 21:18-20 (ARA)
A sequência de batalhas descrita acima, ocorreu depois de Davi ter vencido incontáveis guerras. E não parava! "Depois disto, houve ainda... houve ainda... houve ainda outra peleja". Neste momento, Davi se recolheu das batalhas e viu o seu exército avançar por ele (o exército do nosso Senhor - glórias à Deus). Resultado? Davi, apenas observando, recebeu ainda o mérito da vitória:
"Estes quatro nasceram dos gigantes em Gate; e caíram pela mão de Davi e pela mão de seus homens."
2Samuel 21:22 (ARA)
"Caíram pela mão de Davi"! Glórias à Deus, nosso Pai maravilhoso!!! Ele vai te honrar pela sua obediência, mesmo sem você fazer nada! Vai te honrar por confiar Nele! Vai te honrar por você deixar Ele vencer por você! E ainda vai te dar mérito pelo êxito!!! Que Deus maravilhoso!
É impossível não lembrar da história de Maria e Marta!! Maria escolheu a melhor parte! Sim! A melhor parte é ficar parado aos pés do nosso Senhor enquanto Ele luta por nós! Na hora que Ele quiser que nos tornemos Marta, para realizar alguma tarefa, tudo ficará claro. Seguiremos com confiança e o êxito estará garantido!
Seja Maria, fique aos pés do Senhor, peça sabedoria à Ele e, assim, quando você precisar ser Marta, suas batalhas já terão sido selecionadas com toda a sagacidade do Espírito Santo.
Estamos aqui para lutar o que o Senhor sabe que é melhor para nós. Peçam e receberão! Ele só está esperando a gente pedir para começar a trabalhar em nosso favor! Obrigado Jesus - você é lindo demais - amado da minha alma!
Com carinho,
Nemer - Brasil
Father, in the name of Jesus, I thank the Lord for the wonderful opportunity to get to know Your Wonderful Grace better! Thank you very much Beloved of my soul!
"Once again there was a battle between the Philistines and Israel. David went down with his men to fight against the Philistines, and he became exhausted."
2 Samuel 21:15 (NIV)
Dear ones, perhaps this is the current state of your soul. After incessant struggles, intense and very challenging, we are losing strength and realizing that we need rest. But what rest is this? Is it stopping everything? Stop looking for our Beloved, stop praising, stop worshiping? Is it giving up everything and just resting the meat on a bed or sofa? The rest of the soul fatigued by battles can only be found in the arms of our Beloved Jesus. There is no other place to rest!
David was a man of God. Not for that reason did the battles cease in his life. On the contrary, his life was a constant struggle. David was a man of war. He lived in a time where being king, almost irrevocably, demanded a skill in unprecedented battles. And David was aware that his success in combat came from the Lord. Did He really look at everything? Whenever the enemies arose, was David ready and the attack was launched? Certainly not! He always consulted with our Lord about any movement of his. Why don't we do the same? Why do we go out embracing all the challenges that are thrown at us? That's why we fainted! We fought many battles that were often not God's plan for us. We must look for our vocational battles. Battles that will build everything and everyone and still allow the glory of God to be demonstrated. Anything that is out of step with this is a waste of time.
"The horse prepares for battle but the victory comes from the Lord". When David rested, the Lord fought for him, through his army, and yet David took credit!
"And Ishbi-Benob, one of the descendants of Rapha, whose bronze spearhead weighed three hundred shekels and who was armed with a new sword, said he would kill David. But Abishai son of Zeruiah came to David's rescue; he struck the Philistine down and killed him. Then David's men swore to him, saying, "Never again will you go out with us to battle, so that the lamp of Israel will not be extinguished.""
2 Samuel 21:16-17 (NIV)
Those who were for David protected him with all their might! This is the power of God in our lives! "He will send the angels to his aid and will not let his feet stumble on one stone". He does!! Often we will not know how to choose our battles but God will send circumstances that shall help us to understand the way. With the help of his friends, David can give up being a warrior in the field to be only king of Israel. They wanted to secure the "Israel lamp" lit. David was already old, but he didn't lose his temper for battle. His army was loyal, he recognized all his deeds and saw that the right place for him, at the moment, was the throne. He did not run away from the battle, but he needed help from friends to understand which fight he should choose.
This exercise is incredibly necessary! Do you know why? Because the fights will not end! They won't stop! Won one today? Congratulations!! Tomorrow there is more !! Don't be in a hurry to win today's fight because there is already a new one waiting for you! Will we have to fight them all? Certainly not! "Trust your ways to the Lord and He will make your paths straight"!
"In the course of time, there was another battle with the Philistines, at Gob. At that time Sibbekai the Hushathite killed Saph, one of the descendants of Rapha. In another battle with the Philistines at Gob, Elhanan son of Jair the Bethlehemite killed the brother of Goliath the Gittite, who had a spear with a shaft like a weaver's rod. In still another battle, which took place at Gath, there was a huge man with six fingers on each hand and six toes on each foot—twenty-four in all. He also was descended from Rapha."
2 Samuel 21:18-20 (NIV)
The sequence of battles described above came after David had won countless wars. And it didn't stop! "After that, there was still ... there was still ... there was yet another fight". At this moment, David withdrew from the battles and saw his army advance for him (the army of our Lord - glory to God). Result? David, just watching, also received the merit of the victory:
"These four were descendants of Rapha in Gath, and they fell at the hands of David and his men."
2 Samuel 21:22 (NIV)
"They fell by the hand of David"! Glories to God, our wonderful Father !!! He will honor you for your obedience, even without you doing anything! He will honor you for trusting Him! He will honor you for letting Him win for you! And He will still give you credit for the success !!! What a wonderful God!
It is impossible not to remember the story of Mary and Marta !! Mary chose the best part! Yes! The best part is to stand at our Lord's feet while He fights for us! When He wants us to become Martha, to do something, everything will be clear. We will continue with confidence and success will be guaranteed!
Be Mary, stay at the Lord's feet, ask Him for wisdom and, thus, when you need to be Martha, your battles will have already been selected with all the wit of the Holy Spirit.
We are here to fight what the Lord knows is best for us. Ask and you will receive! He's just waiting for us to ask to start working on our behalf! Thank you Jesus - you are too beautiful - beloved of my soul!
With love,
Nemer in Brazil