♕ Today's Promise: "For I know the plans I have for you," declares the Lord, "plans to prosper you and not to harm you, plans to give you hope and a future." Jeremiah 29:11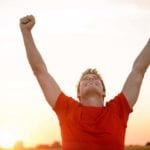 Hello, my name is Peter and this is my Praise Report.
Before I get into the praise report, I believe it is important to share something I learned very early on doing the RMI course, and it really spoke to me and shaped my future thinking. When our spouse leaves our heart and soul aches for their return which of course is natural, so we then turn to God to ask for the return of our spouse.
What I took from the course notes, was that if we gave God our whole attention and left our spouse in his hands, then we would as a result of refocusing our lives on him and making him centre, we would see the return of our spouse and family life.
The biggest thing for me was the correlation between letting go of our spouse and taking up again our walk with God. However it is one with a difference, I believe it is right, particularly at this time of Chinese Virus to highlight the need to stick to God's Plan like Glue.
Prior to my wife leaving me in July 2015, God had been speaking to me about Rainbows, following a lot of research and time I believe God was talking about a storm, Rainbow his Promise and calm following. God also gave my wife a picture of a path diverging with various tunnels on each path, eventually the path re-joined and became one.
The night before my wife actually left the family home with my daughter, I was driving my lorry on night shift and following a long and strong prayer time in tongues I clearly heard God say "If you want her back, you need to let her go".
So I returned home from work with peace, went to bed, woke up in the evening to get ready for work and my wife had gone.
From this point within 10 days I had lost my job and was almost financially destitute.
But and this is the important bit, in my heart I knew God had a plan for restoration; I also knew God has a plan for my wife and I for the future.
I had spent the previous nearly 25 years trying to work out what the problems were in our marriage, never once realising that I was the problem.
In the last 5 years God has lead me to places I never wanted to go, he has performed deep heart surgery, and believe me this is extremely painful. As a man during this time I have been completely socially isolated (I believe God put me in a Chrysalis) and been forced to face a lot of things.
This has impacted on me heavily; I suffered already from Chronic Fatigue and depression at times this got worse, leading to 3 suicide attempts when I really felt at the end. I must admit one of these attempts occurred just after I received my wife's request for divorce.
But what really kept me going, was knowing that God has a Plan, at times I held onto this by just my fingernails.
Very early on I knew I had to carry on giving to others, and 10 months after my wife left, God blessed me with a flat to rent, and I found he had already placed someone in the property who although not a Christian has been used dramatically to shape and change me.
Looking back over the last 5 years I have seen God's hand moving in magnificent ways. He has led me from being over my head in debt to complete financial freedom even though I do not have a job due to my mental health issues. I have been blessed to be able to tithe to RMI and give to others.
I used to be a man who liked all new gadgets and gizmos, not any more.
I have no physical needs, I have seen food last beyond what anyone would deem reasonable. I've seen financial provision, physical provision of food and other items out of the blue.
In short I have learned that God is to be trusted completely.
Due to circumstances outside of my control I lost contact with my daughter in April 2016, now anyone with children will know the heartache of that. But again God undertook for me.
Around Christmas this year I felt it was right to text my wife and ask her forgiveness for not being the Husband and Father I should have been. I received no response but just left it in God's hand.
Oh how I wanted to reach out and contact my wife and daughter and many times I went to do so, but always felt a check in my spirit until a few weeks ago God gave me a nudge and I sent a text to my wife asking if I could remake contact with my daughter, almost immediately I received a response back, and I am now in contact via messenger with her. Thank you Lord.
My underlying message in all of this is are you going to quit when it gets tough, when things really don't look like they are going to work out, when your own family is working against you.
This next bit I write after coming out of another depressive episode, but I have to say even in this God speaks. I was encouraged by another brother in RMI to get an MP3 player listen to the bible at night (this I have been doing for a good few months now), at first I was not sure, but eventually did, wow, it is a privilege to sleep whilst God's word is being spoken, and as someone who learns better by listening than reading, I have found God has really spoken to me, and opened my eyes to a lot of biblical truths.
Pushing on to the future, I know now that despite my wife submitting a request for divorce two or so years ago, this will not be actioned and I am counting the days until she is once again apart of my life. I know that it will take time to re-adjust to each other I also know that our relationship will never be the same. How can it be, we are now two different people who have both been taken on a voyage of discovery by God.
So to summarise I would just like to share some things I have learned over the last 5 years of separation from my wife.
Had Covid 19 or any other similar problem of less or greater consequence happened 5 years ago, even 6 months ago if I'm really honest. I would be a mess right now.
So what's changed:
I have learned that God is Faithful

God has a plan If we listen and act on it

God is to be trusted

God listens and answers prayer

God brings about financial stability

God is a rock on which we can build our lives
So I encourage you at this time of distress to not look unto the world for answers but to look up to the Father in Heaven and rejoice, because while all around are losing their heads, we are being kept safe. Yes we will have to go through the storm. But we do not need to be "affected" by it.
Rejoice, I say again Rejoice in God.
I keep singing and Old song from the 1980's lol:-
Be bold, be strong
For the Lord your God is with you.
Be bold, be strong,
For the Lord your God is with you.
I am not afraid,
I am not dismayed,
Because I'm walking in faith and victory,
Come on and walk in faith and victory,
For the Lord your God is with you.
Use this time wisely to sit and learn before the Lord, crack your Bible, take the time to read and dig into the word.
But most of all be Encouraged, God Loves YOU!!!!!!!
~ Peter in England