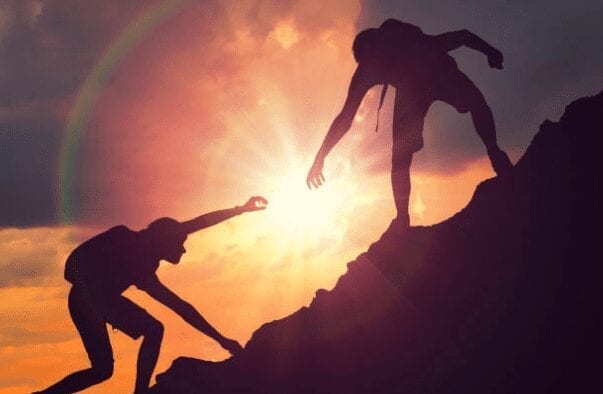 Dear Brother,  

Often you can think because your trial is big to you, that it will be too big for God Almighty. But God is able to handle anything we go through, and He does that for every one of us when we call on Him. He has got it figured out so you don't have to. I realized in my walk that when I was lukewarm, life seemed easy even though I was slowly dying without realizing. Once I committed to the restoration journey, immediately things heated up even though I was most alive and closest to the Lord than I had ever been. I could not live a life of compromise anymore. I had to endure and I had to carry my cross as I am aware you do (because I really had hit the bottom). Has this happened to you?

If it has, take heart. Often when you are facing the trial, because you don't know what is in our future, you can forget God knows. But, being "in it" should not drag you away from the walk with the Lord. He transcends time, He is here in the present and in the future where He has moved this mountain for you. It just makes sense that we would let Him guide us since He knows infinitely more about our lives than we do. We must let Him guide us by remaining steady to the end despite what the situation is seeming to you. You may have offended your wife, or you may be the victim. You are going through a battle at the moment so, despite the heat being turned up, you must endure to the end to receive your prize.
Hebrews 3:12-14 (ESV)

Take care, brethren, lest there be in any of you an evil, unbelieving heart, leading you to fall away from the living God. But exhort one another every day, as long as it is called today, that none of you may be hardened by the deceitfulness of sin. For we share in Christ, if only we hold our first confidence firm to the end.

Hebrews 10:35-36 (ESV)

Therefore do not throw away your confidence, which has a great reward. For you have need of endurance, so that you may do the will of God and receive what is promised.
Also, the trials have a way of wearing us down and before long, we don't think we can put one weary foot in front of another. Perhaps your wife does not communicate, perhaps she is living with the OM. It feels all too heartbreaking and you think you cannot put up with this any longer. You want to give up. Because of this, the enemy of our soul whispers that we are alone and that we will never make it. "She will never come home" say people around you. Yet God reassures us that He is with us to the end and it's why He's allowed this—in order for you to have this time with Him.

God will give us the strength we need; He will help us and will uphold us if we lean solely on Him. And if God upholds us, we're going to be okay. Perhaps it is why the psalmist says (Psalm 121:1) "I look up to the mountains for, where will my help come from"—perhaps to remind himself of Who is truly in charge. Please take time and remind yourself Who is in charge; break out in Worship, when you have doubt. Don't give in. Don't feel sorry for yourself. Fight these feelings, remove discouragement from your thoughts so that you can endure.

God has not left us alone in this world. To those of us who have accepted Jesus as Savior, He has given us His Holy Spirit. And it is His Spirit who reminds us of what God says in His Word. Yet never forget that we were created for fellowship, so be sure you set aside time every day to spend time, not praying, but listening to Him speak and feel His presence.

The peace God gives us is a peace the world cannot be understood. It's a peace that will settle our hearts and give our minds rest. Despite all frustrations you are worthy in His eyes, you are a son of the Most High God, He is your Father so discuss things with Him. As our Father, He tells us that we are worth more to Him than little sparrows in Matthew 6. He says this to make a point. If the God of all creation cares about the welfare of tiny, little birds, how much more does He care about us, the ones who were made in His own image? He tells us that we should not worry, just as those birds don't give a second thought to where they will eat. Trust Him with a good outcome for you. Isn't that what a loving Father would do for His own son? Remain steady. Endure to the end. Never give in to what will destroy you, your wife and your family!
Hebrews 12:1 (ESV)

Therefore, since we are surrounded by so great a cloud of witnesses, let us also lay aside every weight, and sin which clings so closely, and let us run with perseverance the race that is set before us, looking to Jesus the pioneer and perfecter of our faith, who for the joy that was set before him endured the cross, despising the shame, and is seated at the right hand of the throne of God.

Hebrews 12:13-14

Therefore lift your drooping hands and strengthen your weak knees, and make straight paths for your feet, so that what is lame may not be put out of joint but rather be healed.

2 Thessalonians 3: 5
May the Lord direct your hearts to the love of God and to the steadfastness of Christ.
James 4:7-8
Be patient, therefore, brethren, until the coming of the Lord. Behold, the farmer waits for the precious fruit of the earth, being patient over it until it receives the early and the late rain. You also be patient.
1 peter 5:10
And after you have suffered a little while, the God of all grace, who has called you to his eternal glory in Christ, will himself restore, establish, and strengthen you. To him be the dominion for ever and ever.

~ Patrick RESTORED in Australia
If you haven't already done so, please take a moment to read my testimony and then my wife's encouragement.
Also, here are the previous letters from prior months that I hope will inspire you in your Journey.
Patrick RESTORED in Australia
Jodi RESTORED in Australia