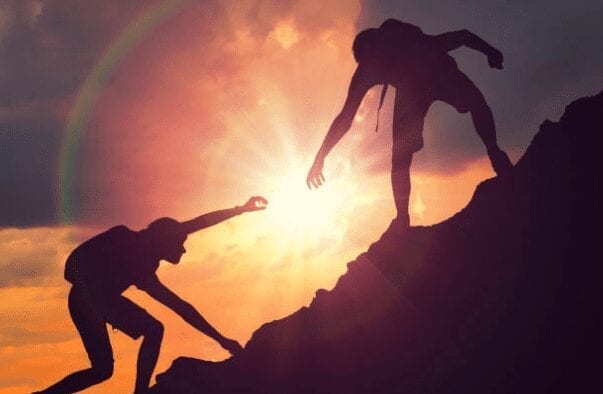 Words of Encouragement
Dear Brother,
The restoration journey and your time apart from your wife and children is a down-right difficult time—simply impossible to go through and emerge victorious without the Lord. In my case, it was one of the two hardest things I had ever done in my life. 
This month I ask you how many times have you felt like giving up? 
You cannot see anything happening or changing and you are now exhausted. Fear may come into your heart more often than you want. Fear that your spouse may never return to you. Fear that your children may become estranged. Fear that what you're going through is the "new and permanent normal." 
My wife used to call me and assure me that we would never be together. Those moments were crushing and used to make me want to shrink back and give up. Then there were all the other discouraging things—my roommates, the shame of my sin, and the overwhelming feeling that I would lose this fight. It was all stacked against me. I was tired but I believe—because I knew what God could do—so I did not shrink back totally. 
I would "lick my wounds" and get back up to fight.  The writer of Hebrews was addressing Hebrew believers who had tasted fear. They were exhausted, their friends and family had been imprisoned or killed, and they were wondering if living for Jesus was worth it. They were scared for their lives and families. They were exhausted. 
This time of separation is for you, dear brother, to be close to Jesus because He is worth it. The early church did not shrink from their mission and neither must you. 
Hebrews 10: 35-38 (ESV) 
Therefore, do not throw away your confidence, which has a great reward.  For you have need of endurance, so that when you have done the will of God you may receive what is promised. For, "Yet a little while, and the coming one will come and will not delay; but my righteous one shall live by faith, and if he shrinks back, my soul has no pleasure in him."  But we are not of those who shrink back and are destroyed, but of those who have faith and preserve their souls.
Why would you shrink back, brother, are you afraid? 
Exhausted? 
Loneliness or perhaps feeling stuck?  
Don't you believe anymore that this is the time of your divine appointment? 
Do you look like you are crazy in front of others for believing in marriage restoration; like you are unable to accept reality? (I sure did!)
Often we end up feeling like this but the reward is coming! The difficult time you are in now will pass so please do not shrink back for any reason. In his farewell address to the elders at Ephesus, Paul says, "I did not shrink back" twice. He was emphasizing for our sake. Paul was bold about communicating truth. He set the example not to shrink back when things got hard because he knew things would get hard!
Acts 20: 17-24. (ESV) 
Now from Miletus he sent to Ephesus and called the elders of the church to come to him. And when they came to him, he said to them:
"You yourselves know how I lived among you the whole time from the first day that I set foot in Asia,  serving the Lord with all humility and with tears and with trials that happened to me through the plots of the Jews;  how I did not shrink from declaring to you anything that was profitable, and teaching you in public and from house to house,  testifying both to Jews and to Greeks of repentance toward God and of faith in our Lord Jesus Christ. And now, behold, I am going to Jerusalem, constrained by the Spirit, not knowing what will happen to me there,  except that the Holy Spirit testifies to me in every city that imprisonment and afflictions await me.  But I do not account my life of any value nor as precious to myself, if only I may finish my course and the ministry that I received from the Lord Jesus, to testify to the gospel of the grace of God.
Remember all the saints gone before us who did not shrink back, because of them you and me have the gospel. Hang on, brother, your testimony will go far and wide and it will start with your family reunited. 
~ Patrick RESTORED in Australia
If you haven't already done so, please take a moment to read my testimony and then my wife's encouragement.
Also, here are the previous letters from prior months that I hope will inspire you in your Journey.