♕ Today's Promise: "If you know these things, you are blessed if you do them." John 13:17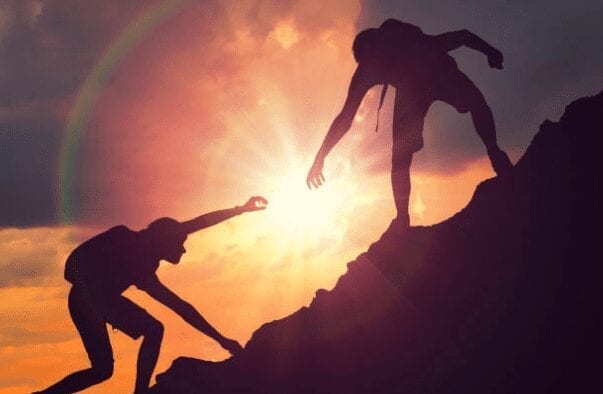 Words of Encouragement
Dear bro, 
Right now everything is in turmoil since your wife announced she was leaving; since your/her infidelity was uncovered; since you've been separated; since the divorce application went in. Everything is out of control for you and the fallout is far and wide. It affects your work, your children, your families, your friends. Sometimes you feel like you're in paralysis. You can't make a move!  If you're like me you want to feel like you have to figure this situation out before you move on. You feel like you have to fix this or participate in fixing this or get a solution so that your mind can be at peace. Perhaps for the first time in your life you have to admit that things are way out of your control and you cannot figure things out, cannot fix this and that's okay! Once you surrender to Our Lord through His Son, He takes the burden off you. 
Matthew 11:28-29 (NKJV)
Come to Me, all you who labor and are heavy laden,
and I will give you rest.
Take My yoke upon you and learn from Me,
for I am gentle and lowly in heart,
and you will find rest for your souls.
For My yoke is easy and My burden is light."

Psalm 46: 1-3; 8-9. (NKJV) 
Therefore we will not fear,
Even though the earth be removed,
And though the mountains be carried into the midst of the sea;
Though its waters roar and be troubled,
Though the mountains shake with its swelling
Come, behold the works of the Lord,
Who has made desolations in the earth.
He makes wars cease to the end of the earth;
He breaks the bow and cuts the spear in two;
He burns the chariot in the fire.
Be still, and know that I am God;
I will be exalted among the nations,
I will be exalted in the earth!
This is because the Lord has worked it all out. Everything that is happening right now does not surprise the Lord. At no point did the Lord say or think, "Didn't see that coming". There is nothing—not one thing—that He did not see coming. He sees your tests coming to you, He knows when temptation will strike, He has allowed it to be only a measure that you can handle. You are not defeated if facing this trial, you can handle it, with Him.
1 Corinthians 10:12-13 NKJV
Therefore let him who thinks he stands take heed lest he fall. No temptation has overtaken you except such as is common to man; but God is faithful, who will not allow you to be tempted beyond what you are able, but with the temptation will also make the way of escape, that you may be able to bear it.
If you try and figure things out, try and fix them in your own strength you will make things worse. Some of you have already had experience with this, where interfering and "helping the Lord" worked out badly. One brother wanted to show his estranged wife how much he had changed by setting up things he could do for her and contacting her regularly. She only saw this as annoying and pestering behaviour. Their relationship soured more.  He did not understand why she was getting so hostile with his help as they had agreed to remain friends. The right thing for him to do was to back off because He trusted the Lord who would work it out and engage her when she initiated. If you are praying and believing—then do not try to work it out. Let Him do it.
Faith and trust in the Lord are allowing Him to fix it, admitting that you are weak and He is strong. He is smart, He's resourced, He has no shortage of manpower, and has already seen the outcome that is good for you. Do you believe that in your heart? If you do, then do not try to figure things out and thank God you do not!  The Lord has taken that burden on Himself so you don't have to. So regardless of the turmoil that you are in, be still and know that He is God who has it worked out.  
~ Patrick RESTORED in Australia
If you haven't already done so, please take a moment to read my testimony and then my wife's encouragement.
Also, here are the previous letters from prior months that I hope will inspire you in your Journey.