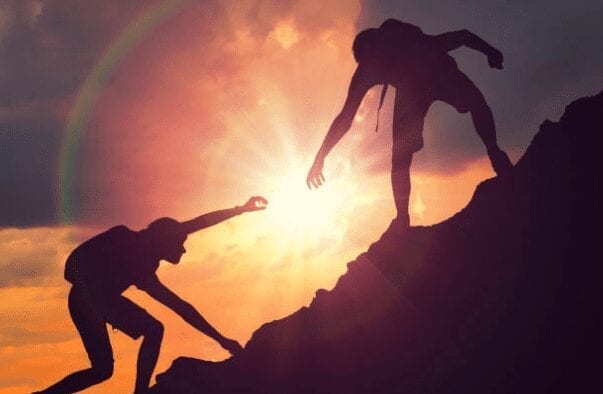 Words of Encouragement
Dear Brother,
On your journey, do you find yourself in the same cycle each week, day in and day out? 
I used to find myself in patterns that I was ignorant of how to deal with—both when I was with my wife and separated. We all walk through peaks and valleys throughout all our lives. At times you are a voice crying in the wilderness in obedience to God and other times finding yourself stuck in the wilderness, going around the same mountain over and over (and over). I found out quickly that things were repeating themselves early on my journey. For instance,  my wife's angry calls mostly came at a certain time of day. Then I noticed that sometimes arranging scheduled times to see children and pay child support would get very touchy especially on weekends. Before we separated Odelia and I had some repetitive problems in our marriage. Special times like kids' birthday and holidays did not end well, prayer times ended in disagreements. The same high-stress situations kept coming back over and over again and I did not learn to change this. Fortunately, when we were separated I had learned to zip my mouth whereas before that I did not have this discipline.
My accountability partner in the church brought this to my attention as he mediated between my wife and me later on. He made me recognize that it was time to watch out for these patterns, take extra precaution during these times and approach each with sensitivity to other issues so that I did not remain in the same place. 
What happens to you when you get these calls or feel low? Do you think you repeat the same things?
It is time to deal with these repetitive situations in the manner the Lord wants these things dealt with. I learned almost too late that I should have a "Biblical solutions-based approach" and attack the issues not attack my wife (even now in our marriage). 
Later when my wife would attack me—especially in the early days of being restored—I would remain focussed on the issue and not attack back. 
Dear brother, I do not know what is going on right now in your life. But if you are going around the same mountain, it is time for you to stop and get a different result.
Deuteronomy 1:1-8 (ESV)
These are the words that Moses spoke to all Israel beyond the Jordan in the wilderness, in the Arabah opposite Suph, between Paran and Tophel, Laban, Hazeroth, and Dizahab. It is eleven days' journey from Horeb by the way of Mount Seir to Kadesh-barnea. In the fortieth year, on the first day of the eleventh month, Moses spoke to the people of Israel according to all that the Lord had given him in commandment to them, after he had defeated Sihon the king of the Amorites, who lived in Heshbon, and Og the king of Bashan, who lived in Ashtaroth and in Edrei. Beyond the Jordan, in the land of Moab, Moses undertook to explain this law, saying, The Lord our God said to us in Horeb, 'You have stayed long enough at this mountain. Turn and take your journey, and go to the hill country of the Amorites and to all their neighbors in the Arabah, in the hill country and in the lowland and in the Negeb and by the seacoast, the land of the Canaanites, and Lebanon, as far as the great river, the river Euphrates. See, I have set the land before you. Go in and take possession of the land that the Lord swore to your fathers, to Abraham, to Isaac, and to Jacob, to give to them and to their offspring after them.'
From this passage,  the Lord is saying to them (and to us):
You have stayed at this mountain long enough;

Turn and take your journey (leave this place);

Go in and take possession of the Promised Land.
It's time for you to show some signs of turning away from the same mountain. Whether it is repeating patterns of sin, doubt, feeling frustrated when lonely—it's time to develop a plan of action to advance to the place you want to be. Go take possession of the land.
Philippians 1:6 (ESV)
And I am sure of this, that he who began a good work in you will bring it to completion at the day of Jesus Christ.
Hebrews 10: 35-39 (ESV)
Therefore do not throw away your confidence, which has a great reward. For you have need of endurance, so that when you have done the will of God you may receive what is promised. For, "Yet a little while, and the coming one will come and will not delay; but my righteous one shall live by faith, and if he shrinks back, my soul has no pleasure in him." But we are not of those who shrink back and are destroyed but of those who have faith and preserve their souls.
I realize sometimes you may feel like throwing in the towel. Perhaps you feel you are not catching a break and cannot figure things out (don't even try to figure things out! Reread newsletter on figuring things out). 
In every situation, think I do not want to go around the same mountains; I do not go under the same mountains; I do not want to climb them. Instead, I will command them to be lifted and thrown into the sea—and this is Jesus Himself saying this, not just me.
 Matthew 21:21
"And Jesus answered and said to them, 'Truly I say to you, if you have faith, and do not doubt, you shall not only do what was done . . . but even if you say to this mountain, "Be taken up and cast into the sea," it shall happen.'" 
~ Tad RESTORED in Australia
If you haven't already done so, please take a moment to read my testimony and then my wife's encouragement.
Also, here are the previous letters from prior months that I hope will inspire you in your Journey.