.
Chapter 10 "Desires of Your Heart"
"The king's heart is like channels of water
in the hand of the Lord;
He turns it wherever He wishes."
—Proverbs 21:1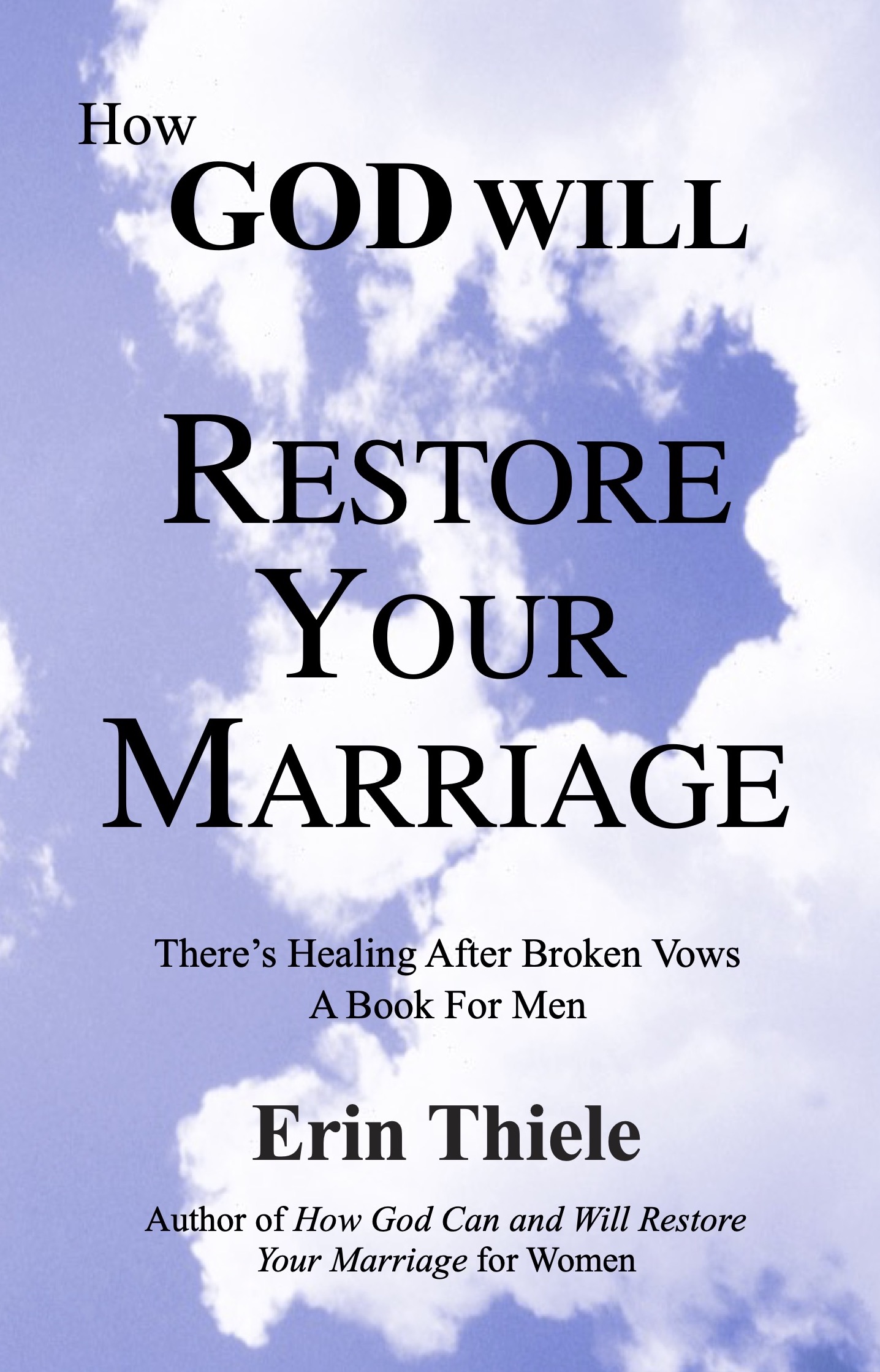 Has everyone told you that your wife has her own will; therefore, she may "choose" not to return to you? When trying to restore your marriage you will be bombarded, as other men have, by the onslaught of those who will tell you that it is your wife's choice and her "free will" to choose to leave you or to be with another man. But, praise the Lord, this is not the truth!!
The key is not your wife's will, but God's will! And when seeking God's word it is clear to see that it is His will to turn your wife's heart back to you, her husband, because it is what He joined together. Glory to God!
It's NOT Man's Will but God's Will!!
"He does His will…." Dan. 4:31
"He bestows it on whomever He wishes…." Dan. 4:25
"God is able to deliver…." Dan 3:17
Consider Nebuchadnezzar. After his pride caused him to crawl like an animal, he said of God, "He does according to His will in the host of heaven and among the inhabitants of earth; And no one can ward off His hand or say to Him, 'What hast Thou done?'" Dan. 4:35. Is this not the same God who still does according to His will? Is your wife greater than King Nebuchadnezzar?
Consider also Jonah. Jonah was unwilling to do what God wanted him to do, but God made him willing. "And the Lord appointed a great fish to swallow Jonah, and Jonah was in the stomach of the fish three days and three nights." Jonah 1:17. God is MORE THAN ABLE to make your wife willing!
Lastly, consider Paul. "Now Saul, still breathing threats and murder against the disciples of the Lord…suddenly a light from heaven flashed around him…and Saul got up from the ground, and though his eyes were open, he could see nothing…the Lord Jesus…has sent me so that you may regain your sight and be filled with the Holy Spirit. And immediately there fell from his eyes something like scales, and he regained his sight, and he arose and was baptized." Acts 9:1-18.
God is MORE THAN ABLE to change your wife in an instant!! I have seen it done countless times! If you say "But you don't know my wife," I would say – you don't know God!!
Turning the Heart
As I mention earlier, you may hear some pastors and other Christians say that it is your wife's will to leave you, divorce you, or be with another man. But we just learned in Scripture that it is not man's will but God's will.
It may be your wife's will to leave you, divorce you, or be with someone else. Nevertheless, God can turn her heart!
You don't need to worry about her will. Instead you need to pray for your wife's heart to be turned. "The king's heart is like channels of water in the hand of the LORD; He turns it wherever He wishes." Prov. 21:1.
Pray that God will give your wife a new heart and replace her heart of stone with a heart of flesh! "Moreover, I will give you a new heart and put a new spirit within you; and I will remove the heart of stone from your flesh and give you a heart of flesh." Ezek. 36:26.
The first step in turning your wife's heart is to find God's promises (His truths) and then meet the conditions of those promises. Here are several that we recommend you memorize:
"When man's ways are pleasing to the Lord, He makes even his enemies to be at peace with him." Prov. 16:7
"Delight yourself in the Lord and He will give you the desires of your heart." Ps. 37:4
"Commit your way to the Lord, trust also in Him and He will do it." Ps. 37:5
"Seek first the kingdom of God and His righteousness and all these things will be added unto you." Matt. 6:33
Remember you need to put God first in your life; He never wants to be second place to anything or anyone. Once He is first, you will begin to be transformed into His image. That is when you will begin to see your wife's heart turn back to you.
If you struggle with this principle of man's will versus God's will, you will need to renew your mind with the verses in this chapter to overcome the doubts of "man's will theology" and replace it with God's focus, which is the heart!
Let's look at the Scriptures that tell us how God changed the hearts of men and even kings:
"He put this in the king's heart…." Ezra 7:27-28.
"He hardened the hearts of the Egyptians…." Exodus 14:17.
"The Lord hardened Pharaoh's heart…." Exodus 10:27.
"The Lord turns the heart wherever He wishes…." Prov. 21:1.
In the book of Proverbs we learn wisdom. Proverbs 1 verses 2 through 7 lists the benefits of Proverbs:
To know wisdom.
To receive instruction.
To receive instruction in wise behavior.
Also instruction in righteousness, justice and equity.
Prudence to the naive. To the youth knowledge.
Read Proverbs every day for wisdom! (Go to our website "Daily Devotional" for the verses to read every day.)
Wives Who Are Unwilling
Not all wives return home even after God turns their hearts. Many wives, unfortunately, go against their hearts because their husbands are the same men they chose to leave. Once again, God is MORE THAN ABLE to turn your wife's heart back to you. But, if you are still impatient, unkind and proud, then once her heart turns toward you, the OLD you will cause her to harden her heart and make a mental decision rather than a heart decision!
Make sure you read and reread this book over and over again! Make sure you live in the Word. Make sure you spend hours daily with your face to the ground, seeking His face. You must be a new man for your wife to want to follow her heart and come home! Remember, the reason your wife has left or has gotten caught by an adulter is because your home was not built on the rock of Jesus Christ.
Let's look at Proverbs and some New Testament Scriptures:
House of the proud. "The Lord will tear down the house of the proud." Prov. 14:1.
House divided against itself. "Any kingdom or house divided against itself is laid waste: and any city or house divided against itself shall not stand…." Matt. 12:25.
Yet it did not fall. "Therefore, everyone who hears these words of Mine, and acts upon them, may be compared to a wise man, who built his house upon the rock. And the rain descended, and the floods came, and the winds blew, and burst against that house; and yet it did not fall, for it had been founded upon the rock." Matt. 7:24-25.
Built together. "…Christ Jesus being the cornerstone, in whom the whole building, being fitted together, is growing into a holy temple in the Lord; in whom you also are being built together into a dwelling of God in the Spirit…." Eph. 2:21.
Let no man separate. "And He answered and said, 'Have you not read, that He who created them from the beginning made them male and female, and said, "for this cause a man shall leave his father and mother, and shall cleave to his wife; and the two shall become one flesh"? Consequently they are no longer two, but one flesh. What therefore God has joined together, let no man separate." Matt. 19:4-6.
God has promised to heal, restore and create praise on your lips! "Because of the iniquity of his unjust gain I was angry and struck him; I hid My face and was angry, And he went on turning away, in the way of his heart. I have seen his ways, but I will heal him; I will lead him and restore comfort to him and to his mourners, creating the praise of the lips. Peace, peace to him who is far and to him who is near, says the Lord, and I will heal him." Isa. 57:17-19.
You must seek the Lord to break and change you if it is your desire to have your wife care for you again. (See A Wise Man Builds Upon A Rock: By a FOOL Who Tore His Down with His Own Hands for help.)
NOTHING is impossible for God!
The Lord Turns the Heart Wherever HE Wishes!
Personal commitment: to ask God to turn my wife's heart and not to fear the will of man. "Based on what I have learned in Scripture, I commit to trusting the Lord to turn my wife's heart. I dispel the lie that says 'my wife has a free will; therefore, God will not intervene on my behalf and answer my prayers.' Instead, I believe that my 'wife's will' will follow after God turns her heart back home."
Please start a JOURNAL with the LORD in mind what you're learning each day for the next 30 days to "Restore Your Marriage."  
The more you pour your heart out into these forms, the more God and we can help you. These forms will also help you and your ePartner for accountability. CLICK HERE