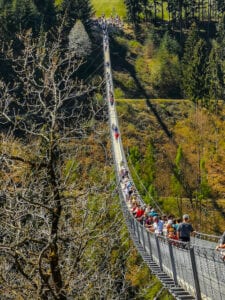 The Bridge Builder
An old man going a lone highway,
Came, at the evening cold and gray,
To a chasm vast and deep and wide.
Through which was flowing a sullen tide
The old man crossed in the twilight dim,
The sullen stream had no fear for him;
But he turned when safe on the other side
And built a bridge to span the tide.
"Old man," said a fellow pilgrim near,
"You are wasting your strength with building here;
Your journey will end with the ending day,
You never again will pass this way;
You've crossed the chasm, deep and wide,
Why build this bridge at evening tide?"
The builder lifted his old gray head;
"Good friend, in the path I have come," he said,
"There followed after me to-day
A youth whose feet must pass this way.
This chasm that has been as naught to me
To that fair-haired youth may a pitfall be;
He, too, must cross in the twilight dim;
Good friend, I am building this bridge for him!" 
Don't Wait 
What Have We Done Today?
We shall do much in the years to come,
But what have we done today?
We shall give our gold in a princely sum,
But what did we give today?
We shall lift the heart and dry the tear,
We shall plant a hope in the place of fear,
We shall speak the words of love and cheer,
But what did we speak today?

We shall be so kind in the after while,
But have we been today?
We shall bring to each lonely life a smile,
But what have we brought today?
We shall give to truth a grander birth,
And to steadfast faith a deeper worth,
We shall feed the hungering souls of earth,
But whom have we fed today?

We shall reap such joys in the by and by,
But what have we sown today?
He shall build us mansions in the sky,
But what have we built today?
'Tis sweet in the idle dreams to bask;
But here and now, do we our task?
Yet, this is the thing our souls must ask,
What have we done today?
Become a true Bridge Builder —Take the first step towards your own Ministry!
Psalm 23: 1-3—
"The Lord is my Shepherd, I shall not want.
He makes me lie down in green pastures;
HE LEADS ME beside quiet waters. He restores my soul."
HE LEADS ME