.
Chapter 3 "Have Faith in God"
And Jesus answered them,
"Have faith in God."
—Mark 11:22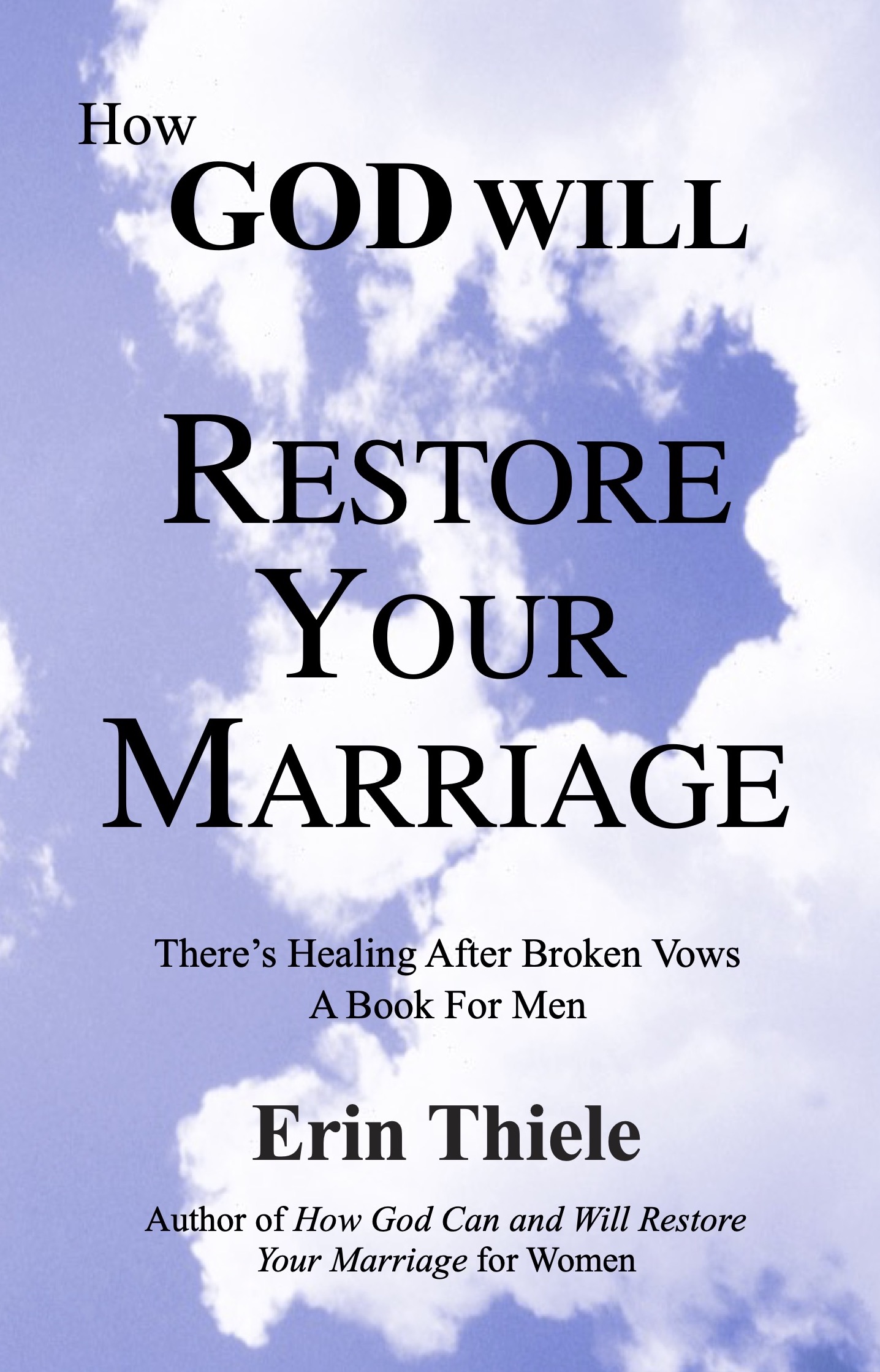 Do You Have Faith or Fear?
Fear will be one of the greatest attacks that you will need to overcome. Rom. 12:21 tells us, "Do not be overcome by evil, but overcome evil with good." Fear will steal your faith and make you totally vulnerable to the enemy. When you listen to all that others tell you about what your wife is doing, not doing, or is planning to do, instead of keeping your eyes on the Lord and His Word, you will fail to focus on Him and you will begin to sink!
And you must speak the "truth" to everyone always about your faith in God's ability and His desire to restore your marriage. Again, read the testimonies of restored marriages; then BELIEVE that yours will be added to theirs!
An example of faith, Peter. Read the account of Peter in Matthew 14 starting in verse 22. Jesus asked Peter to walk on water. If He is asking you to walk on water, are you going to get out of the boat? Watch when Peter cries out to Jesus – it is always followed by the word immediately. Immediately, Jesus spoke to them and told them to take courage. Then later when Peter began to sink and he cried out to the Lord, "immediately Jesus stretched out His hand and took hold of him!" Matt. 14:31.
Fear. A question we must ask ourselves is "why did Peter sink?" "But seeing the wind, he became afraid." Matt. 14:30. If you look at your situation and at the battle that is raging before you, you will sink! Peter took his eyes off the Lord and the result was fear! It says, "he became afraid." If you take your eyes off the Lord, you will become fearful.
Your testimony. Another very important point is to see what happened to the others who were in the boat. (Did you forget that there were others who didn't get out of the boat?) It says, "And those who were in the boat worshiped Him saying, 'You are certainly God's Son!' " Matt. 14:33. Are you willing to allow God to use you to show His goodness, His loving kindness, His protection, and to draw others to Him? There is a great reward! This is evangelism. Others will come to you when they are having trouble because they have seen your peace despite your circumstances.
Overcome
The wind stopped. "And when they got into the boat, the wind stopped." Matt. 14:32. Your battle will not go on forever. This test was needed to make Peter strong enough to be the "Rock" of which Jesus had spoken. (Matt. 16:18) Satan (and others working for him) will tell you that you will stay in the trial unless you get away, or give in and give up.
God never intended us to remain "In the valley of the shadow of death." In Proverbs 23 it says that we go "through the valley of the shadow of death." Satan wants us to think that God wants us to live there! He wants to paint a "hopeless" picture! God is our hope, and hope is the faith in His Word that has been sown in our hearts.
Faith
Abraham. A second example is when Abraham was 90 years old and still without the child God had promised him. It says, "He hoped against hope." (Rom. 4:18) Isn't that awesome? Even when all hope was gone, he continued to believe God and take Him at His Word. We must do the same.
Act on the faith that you have. "And He said to them, 'Because of the littleness of your faith; for truly I say to you, if you have faith as a mustard seed, you shall say to this mountain, 'Move from here to there,' and it shall move; and nothing shall be impossible to you.' " Matt. 17:20.
If you lack faith. If you lack faith, you should ask God for it. There is a battle, even for our faith. "Fight the good fight of faith…." 1Tim. 6:12. And "I have fought the good fight, I have finished the course, I have kept the faith…." 2Tim. 4:7 "And He (Jesus) could do no miracle there except that He laid His hands upon a few sick people and healed them. And He wondered at their unbelief." Mark 6:5. When the Lord lays His hands on you and your marriage, will He marvel at YOUR unbelief?
Imitators of faith. We would do well to imitate those in Scripture who exhibited faith (you can find the Hall of Faith in Hebrews chapter 11). We need to act on God's promises. "…but imitators of those who through faith and patience inherit the promises." Heb. 6:12. There are many men who have followed the principles found in this book who have had victory over troubled or even broken marriages. Their testimonies will encourage you in your faith. Believe as the song says, "What He's done for others, He'll do for you!" Read all the incredible testimonies of marriages that God restored on our website at: www.MarriageHelpOnline.com.
Doubt Destroys
Double-minded or doubting. You must not be double-minded. Your mind must not waver or doubt God. "But let him ask in faith without any doubting, for the one who doubts is like the surf of the sea driven and tossed by the wind. For let not that man expect that he will receive anything from the Lord, being a double- minded man, unstable in all his ways." Jas. 1:6-8. "I hate those who are double-minded, But I love Thy law." Ps. 119:13.
If you have trouble with double-mindedness, you need to read and meditate on God's Word, which is the only truth! You MUST also separate yourself from ANYONE who continues to tell you something contrary to your desire or God's ability to restore your marriage. You will learn in the upcoming chapter "Desires of Your Heart" that it doesn't matter about your wife's will to leave you and be with someone else. What matters is her heart. So be bold and speak the "truth" to everyone always about your faith in God's ability and His desire to restore your marriage.
Faith without works. "But someone may well say, 'You have faith, and I have works; show me your faith without the works, and I will show you my faith by my works.' " Jas. 2:18. Show others that you have faith by your actions. If you believe that your wife will return to you, act like it. Make SURE you wear your wedding ring. Stop walking around like there is no hope. Don't make plans that are not based on your marriage being restored! "But are you willing to recognize, you foolish fellow, that faith without works is useless?" Jas. 2:20.
Firm in your faith. Remind yourself of those who overcame and thus received the abundant life God promised. "But resist him, firm in your faith, knowing that the same experiences of suffering are being accomplished by your brethren who are in the world." 1Pet. 5:9. Read and reread the testimonies on our website and in our book "God is Moving!" Keep the testimonies of others in the forefront of your mind. Those who believed God and never gave up now have a restored marriage. Share these testimonies with your family and friends who doubt that your marriage can be saved or that God can break the relationship she is in and turn her heart back to you.
How to Increase Your Faith
Faith. Read about different difficult situations in the Bible and identify your situation with theirs. Read how Jesus stilled the waves of the sea, to learn of His great power. (Mark 4:39) Read then how He fed the five thousand with the five barley loaves and two small fish, to know that He can do so much with very little. (John 6:1-15) Read how Jesus cleansed the lepers (Luke 17:11-17), healed the sick, opened the eyes of the blind (John 9:1-41), and forgave the fallen woman (John 8:3-11), so you will never doubt His mercy for you and your situation. Again, read the testimonies of restored marriages; then BELIEVE yours will be added to theirs!
The Word. How can we gain faith, or increase our faith? "So faith comes from hearing, and hearing by the Word of Christ." Rom. 10:17. Read His Word and the testimonies of others. Surround yourself with faithful men who will believe with you. Those who have stood for God will teach you and hold you up. Many times we find that when you feel like you are almost out of faith, you should give away what little you have left. When God brings you in contact with another man who is having marriage trouble, encourage him and give him the rest of your faith. You will walk away rejoicing because God will fill you full of faith. (Please be very careful to only encourage and share your faith with other men - not women. We have seen more than one man fall into adultery this way.) Read 1Kgs. 17:12-15 to remember the widow who gave her last cake to Elijah and the miracle she received!
So many come to us for help and fail to reap a restored marriage because they feel they are unable to sow into anyone else's life as they are struggling to save their own marriage. This is unbiblical and contrary to God's principles. Get yourself an Encouragement Partner by joining our Restoration Fellowship and help him restore his marriage. All you need is one other man who is trying to restore his marriage. God will use you powerfully as you minister to other men in your pain and lack – and God will bless your efforts with "a peace that surpasses all understanding" and a restored marriage!
Obedience. Don't forget that obedience to God is paramount to victory. Don't forget what Jesus said, "Not everyone who says to Me, 'Lord, Lord,' will enter the kingdom of heaven; but he who does the will of My Father who is in heaven. And then I will declare to them, 'I never knew you; DEPART FROM ME, YOU WHO PRACTICE LAWLESSNESS.' " Matt. 7:21, 23. If you "practice" or keep doing what you now know is contrary to the Biblical principles found in this book – your marriage will NOT be restored!
In God's will. If your heart convicts you that you are not in God's will and that you are not following His principles, then of course you will have no confidence and no faith to receive your request from the Lord. Ask God to "break" you so your will will become His will.
You MUST Wait 
Wait. Assuredly, there will be many "battles" that must be fought (and won) in the war against your marriage. Just remember, "When the battle is the Lord's, the victory is ours!"
Just like with all real wars, not all the battles are won by the same side so do not be discouraged if you have fallen short and made mistakes. We have the comfort of knowing that He hears us immediately, but His response may sometimes seem slow.
In the book of Daniel, an angel spoke to him and gave us these insights: "…from the first day that you set your heart on understanding this and on humbling yourself before God, your words were heard, and I have come in response to your words. But the prince of Persia was withstanding me for twenty-one days." Dan. 10:12-13. It may take some time to win the battles, so do not become weary. "But as for you, brethren, do not grow weary of doing good." 2Ths. 3:13.
His timing. One thing you must also understand is that God seems to work on ONE thing at a time. We must work with Him in His timing. This does not mean we need to wait to pray; it only means we need to wait for God to change the situation at the proper time. Thank God that He doesn't dump (through conviction) all our sins on top of us all at once! Just use the time while you wait to pray.
Personal commitment: to allow God to change me. "Based on what I have learned from God's Word, I commit to seeking God and His Word to increase my faith is His ability to restore my marriage. I will fight fear by keeping my eyes on Jesus the Author and Finisher of my faith."
Please start a JOURNAL with the LORD in mind what you're learning each day for the next 30 days to "Restore Your Marriage."  
The more you pour your heart out into these forms, the more God and we can help you. These forms will also help you and your ePartner for accountability. CLICK HERE