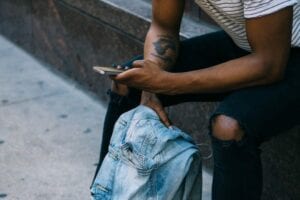 Men's Monthly Encourager Click Here
How is it going along? To encourage you, I would like us to remind ourselves what is going to keep you away from that vision and the outrageous Restoration Plan that the Lord has for you. Below, I want to share what I personally learned from the Bible that can block us on our journey, so, instead, we can effectively deal with anything stopping or slowing us down.  
1. Sin and the lack of repentance
Zechariah 1:2-6
The Lord was very angry with your fathers. Therefore say to them, Thus declares the Lord of hosts: Return to me, says the Lord of hosts, and I will return to you, says the Lord of hosts.  Do not be like your fathers, to whom the former prophets cried out, 'Thus says the Lord of hosts, Return from your evil ways and from your evil deeds.' But they did not hear or pay attention to me, declares the Lord.  Your fathers, where are they? And the prophets, do they live forever?  But my words and my statutes, which I commanded my servants the prophets, did they not overtake your fathers? So they repented and said, 'As the Lord of hosts purposed to deal with us for our ways and deeds, so has he dealt with us.'"
Simply stating it's saying that we have to deal with sin that we have in our lives, when it is exposed by His Word. By follow the Holy Spirit and taking the first step to repent and then taking each step to leave our sin, the Lord is loving and gracious to forgive, strengthen, lead and protect us when we do our part.
2. Our words
Psalm 19:14
Let the words of my mouth and the meditation of my heart
be acceptable in your sight, O Lord, my rock and my redeemer.
Watch your words: Are they full of faith or do they deny your faith and hope in what the Lord is doing now and what you hope He is going to do?
3. Idolatry
Zechariah 13:2
"And on that day, declares the Lord of hosts, I will cut off the names of the idols from the land, so that they shall be remembered no more. And also I will remove from the land the prophets and the spirit of uncleanness.
This is concerning having other things that are more important than God in our lives. When you wake up and go about your day, is the Lord enough for you or do you have other things that are more important?  Do you live for Him or live for other things? Sometimes even our marriage restoration can become an idol as you may want to be back with your wife so badly that you ignore your own relationship / walk / covenant you have with the Lord.
4. Bitterness and lack of forgiveness
Matthew 5:7
Blessed are the merciful, for they shall receive mercy.
John 20:23
If you forgive the sins of any, they are forgiven them; if you withhold forgiveness from any, it is withheld.
Matthew 6:15
But if you do not forgive others their sins, your Father will not forgive your sins.
You have been wronged and hurt. The Lord wants us let go of and not hold it against those who have wronged us. Choose forgiveness in your hearts and in your behaviour toward them. Choose to give and pray mercy for people who offend and wrong you everytime, every time you think of it, and let the Lord help you forget it.
5. Lack of faith
James 2: 14-19
What good is it, my brothers, if someone says he has faith but does not have works? Can that faith save him? If a brother or sister is poorly clothed and lacking in daily food, and one of you says to them, "Go in peace, be warmed and filled," without giving them the things needed for the body, what good is that? So also faith by itself, if it does not have works, is dead.
But someone will say, "You have faith and I have works." Show me your faith apart from your works, and I will show you my faith by my works. You believe that God is one; you do well. Even the demons believe—and shudder!
Please move toward what God is building you for by your actions, prepare to serve the Lord, your wife, wear your wedding ring, serve others and follow in Jesus' steps.
6. Complaining
Numbers: 11:10
The Israelites stood around their tents complaining. Moses heard them and was upset that they had made the Lord angry.
So much did the Lord hate complaining that at some point He sent snakes into the camp of the Israelites to punish them for this. Instead of complaining, have a list of things you are grateful for, repeat them often, and pray for your needs.
7. Letting your suffering take you away.
Zechariah 13:9
And I will put this third into the fire,
and refine them as one refines silver,
and test them as gold is tested.
Suffering comes to us all as Christians. Even non-believers suffer. What makes us different as a believer, is that we choose to be dependent on God and to hand over our burdens to Him— so we are not heavily laden. Please do not let you sufferings take you anywhere else but to prayer, to praise, and to mediation. Why? Because you trust Him!
God says in Zechariah that we are being refined as Gold. Now, gold has a very high melting point, higher than most of its impurities. So, when it is in the furnace, its at these extreme temperatures that impurities like iron and carbon are removed. When it reaches its melting point, it is pure and can be moulded to fit what is needed.
*Please remember this analogy. The Lord the allows you to be in the furnace of hardship and remain there in order to purify you and bring that work He is doing to a perfect finish. He will mould you. Suffering will come to us, especially because we are followers of Jesus. Yet, in your suffering God will give you grace so that your disadvantage becomes an advantage. The suffering of a Christian man is very real; it is crucial we be in a loving and supportive community to help us stand firm.
8. No presence of God
Matthew 26:40-41
He came back and found his disciples sleeping. So he said to Peter, "Can't any of you stay awake with me for just one hour? Stay awake and pray that you won't be tested. You want to do what is right, but you are weak."
Find a regular time each day to read your bible, to meditate on what you read, to worship, praise, and pray. If you are extremely busy then re-examine your day and sacrifice something. You must make space in your life to be with the Holy Spirit. Whatever we do, God will match our efforts by moving closer to us and changing our lives.
9. Selfishness
Philippians 2:3
Do nothing from selfish ambition or conceit, but in humility count others more significant than yourselves.
Be motivated by serving others not to look good or to gain something.
10. No character change
Matthew 22: 11-14 When the king went in to meet the guests, he found that one of them wasn't wearing the right kind of clothes for the wedding. The king asked, "Friend, why didn't you wear proper clothes for the wedding?" But the guest had no excuse. So the king gave orders for that person to be tied hand and foot and to be thrown outside into the dark. That's where people will cry and grit their teeth in pain. Many are invited, but only a few are chosen.
I heard a really good preaching on this one. This scripture speaks of a man who is saved and is in relationship with our Lord.  That is why he was invited to the banquet. The clothes represent character. He did not take time or any effort to make changes in his life, to change his character to what the Lord wanted. Ultimately, we are to be just like Jesus through the Holy Spirit. So please, when you read the Word, and it points out to some sin, an action, or habit that the Lord does not want –deal with it. After all, imagine how good it would be like for your wife when she comes home to see the new man in Christ and not the old man she left and wanted nothing to do with. Consistently make effort to deal with your short comings.
11. Giving
Luke 6: 38
"Give to others, and you will receive. You will be given much. It will be poured into your hands—more than you can hold. You will be given so much that it will spill into your lap. The way you give to others is the way God will give to you."
I do believe that we should be giving and tithing. At every stage of my life, I was more blessed when I gave and tithing to where I'm continually being spiritually fed. This is God's promise for you too.
12. Humility
Proverbs 29:23
Too much pride brings disgrace; humility leads to honor.
Proverbs 18: 12
Pride leads to destruction; humility leads to honor.
Matthew 5: 5
God blesses those people who are humble. The earth will belong to them!
The realization that we are weak, we do need help, we admit fault and do not have it all together. God does not want macho men and action heroes who know everything and can do everything. He is looking for men who want to be servant leaders in His kingdom.
13. Doing things in your own strength
Zechariah 4:5-6
Do you not know what these are?" I said, No, my lord." Then he said to me, "This is the word of the Lord to Zerubbabel: Not by might, nor by power, but by my Spirit, says the Lord of hosts.
I read this first time when I was where you are in your journey. The Lord was saying to me that only by His power and His Holy Spirit would I win the battle for my marriage. And it's the same for you. A lot of times your wife's heart is beyond convincing, beyond persuasion, only by the power of God can you win her back.
14. Remember Who is in charge
Job 1:12
The Lord replied, "All right, Satan, do what you want with anything that belongs to him, but don't harm Job."
Despite the Lord allowing Satan to afflict Job, the Lord had the ultimate say what would happen to Job—He drew a line and set boundaries for the devil. So often it can look like we are overcome in our suffering but remember who is in charge—the Lord. Not your wife or the enemy.
15. Waiting well
Psalm 27:14
Wait for the Lord; be strong, and let your heart take courage; wait for the Lord!
Our hope is that you, brother, use this time of separation to encourage yourself to persevere through your waiting season. It's not torture or punishment, but an opportunity for advancement. This time you are seeking the Lord, He is not far off but closer to you than ever and you are learning to align yourself with Him. I pray that you will find a community with other men who encourage you along the way.
16. Gird your loins
Ephesians 5:3
But sexual immorality and all impurity or covetousness must not even be named among you, as is proper among saints.
So many men fell because of sexual temptation. Whether it in is the bible, Abraham, David, Samson or even a look around at our leaders. Pray and take steps to remain chaste.
Summary
Whatever you have to re-examine, whether it's all these things I've mentioned you need to work on or just one thing. The Lord has sufficient grace for you. He has hope for you as vast as an ocean, brother. I am not happy to tell you that I had most of these things to deal with. I was a complete hypocrite. Fortunately for you and all of us, the Lord has given us the Holy Spirit. If you are dealing with any of these things here, please confess and trust He will complete what He started.
The Lord wants us to be just like His son, a true man who is a servant leader for his home and the world. He does not want us to ignore the wrinkles in our journey but to be straightened out, so we are like Him. God will arm you and make you strong enough for your journey. Right now, be grateful for what He has done and will do. Moving forward, you need faith and obedience.