.
Chapter 12 "Ask of God"
"But if any of you lacks wisdom,
let him ask of God,
who gives to all men generously
and without reproach,
and it will be given to him."
—James 1:5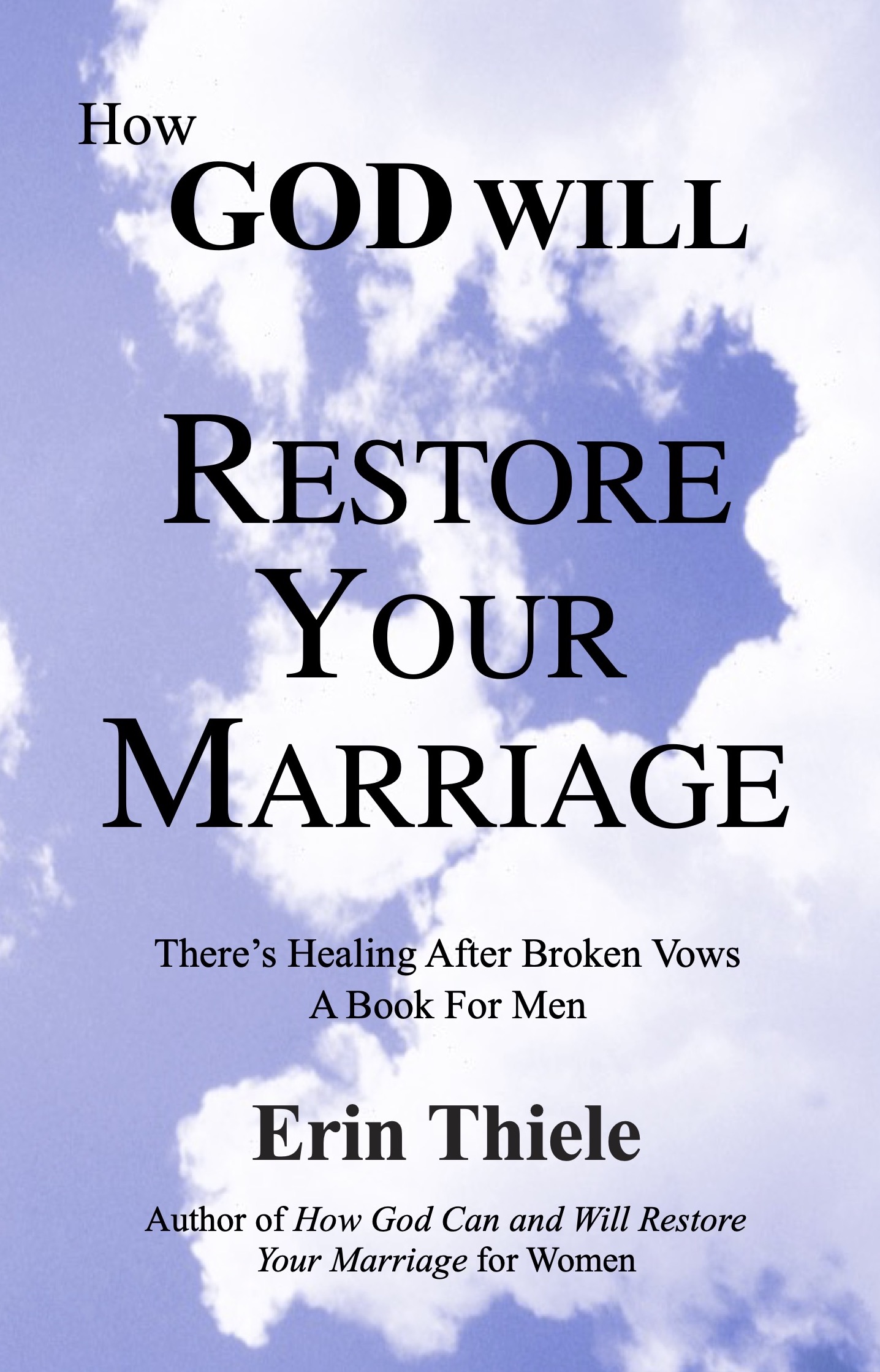 What if my wife is unfaithful and commits adultery, am I then allowed to divorce her?
No! As we just learned in Chapter 11 "Cleave to His Wife" God's Word says that a husband could divorce for the reason of fornication only (which is intercourse prior to marriage) if the woman was defiled. no matter what your Bible translation may seem to say. The only exception refers to the time of betrothal only. Fornication and adultery are not the same sin. If they were, these sins would not be stated twice in the same Scripture verse: "...neither fornicators, idolaters, nor adulterers...." 1Cor. 6:9.
Divorce her secretly. Divorce for the cause of fornication was allowed during the betrothal time, as in the case of Mary and Joseph. The terms fiancé and engagement were not used during this period of history. The term "husband" was used because Joseph had already committed to being Mary's husband. "And Joseph, her husband...desired to divorce her secretly." Matt. 1:19. This was prior to their marriage because divorce was allowed for the case of fornication only.
Betrothed. The previous verse explains that the "divorce" was to take place before the marriage! "...Mary had been betrothed to Joseph, before they came together she was found to be with child...." Matt. 1:18. The latest a divorce could take place was immediately after the wedding night, if the woman was found not to be a virgin.
Can anyone then ever remarry?
"A wife is bound as long as her husband lives; but if her husband is dead, she is free to be married to whom she wishes, only in the Lord." 1Cor. 7:39. For those women who are widowed, it is important to know that when the real "Mr. Right" comes along he too will be widowed or will never have been married. Remember, Satan usually brings his best first, but the Lord makes you wait and then brings His best! "Wait for the Lord, and keep His way." Ps. 37:34.
What if I am already in a second (or third) marriage?
First, you must ask God's forgiveness, whether you were married before you were saved or not. You can't be effective in your Christian walk if you can't admit past sins. "He who covers his transgressions shall not prosper." Prov. 28:13. "If we say that we have no sin, we are deceiving ourselves, and the truth is not in us. If we confess our sins, He is faithful and righteous to forgive us our sins and to cleanse us from all unrighteousness." 1John 1:8-9.
Time to repent. "Therefore, confess your sins to one another, and pray for one another, so that you may be healed. The effective prayer of a righteous man can accomplish much." Jas. 5:16.
Should I restore this marriage or go back to my first wife?
His will. After you confess your sin of getting ahead of God by remarrying or marrying someone who was already married, you must lay your will aside and ask your Heavenly Father for His will concerning your present marriage. Does the Lord want you to continue to seek restoration for this marriage that is falling apart? Many men have faced this difficult task, but God is ALWAYS faithful and He will guide you if you seek Him. Pray for God's direction. "The thief comes only to steal, and kill, and destroy; I came that they might have life, and might have it abundantly." John 10:10.
We are no longer under the law, but live under grace when we accept the gift of salvation. God may want to restore your first marriage, or your second marriage or maybe He would rather you live a life of singleness. God has an abundant life for you, but only as you desire His will can you find it. If you continue to seek your own will, wanting your first marriage or your current marriage or a new marriage, you will continually live in misery and defeat. Seek Him and His will for you. "'For I know the plans that I have for you,' declares the LORD, 'plans for welfare and not for calamity to give you a future and a hope.'" Jer. 29:11.
What's the truth about "Covenant Marriages". The fact is that God DOES recognize second marriages. The term "covenant marriage" was coined from Mal. 2:14: "Yet you say, 'For what reason?' Because the Lord has been a witness between you and the wife of your youth, against whom you have dealt treacherously, though she is your companion and your wife by covenant." It does not say that it is a first marriage or that a first marriage is all that the Lord will recognize. We cannot read into a verse to make it say what we WANT it to say. "For the time will come when they will not endure sound doctrine; but wanting to have their ears tickled, they will accumulate for themselves teachers in accordance to their own desires; and will turn away their ears from the truth, and will turn aside to myths." 2Tim. 4:3-4. Only the truth will set us free.
Ignoring or minimizing the power of Christ's shed blood. When you believe that God will NOT forgive a second or subsequent marriage, but sees it only as ongoing adultery, you are saying that Jesus' blood is unable to cover the sin of adultery caused by divorcing and remarrying.
But this verse tells us differently: "Or do you not know that the unrighteous shall not inherit the kingdom of God? Do not be deceived; neither fornicators, nor idolaters, nor adulterers…shall inherit the kingdom of God. And such WERE some of you; but you were washed, but you were sanctified, but you were justified in the name of the Lord Jesus Christ, and in the Spirit of our God." 1Cor. 6:9. Hallelujah! God can and does forgive adultery, any and all adultery! "And Jesus said, 'Neither do I condemn you; go your way. From now on sin no more.' " John 8:11.
Trust Him. If you want the abundant life God has for you as one of His children, you must trust Him with your life. God wants to give you an abundant life, not a counterfeit. If you choose to try and do this yourself, it is in vain. Ps. 127:1 says, "Unless the Lord builds the house, they labor in vain who build it…."
Can adultery be forgiven?
Yes. Jesus said to the woman caught in adultery: "Did no one condemn you? ... Neither do I condemn you; go your way. From now on sin no more." John 8:10-11. Actually, not only is adultery NOT grounds for divorce, it is grounds for forgiveness as Christ showed in John 8:10 above.
We also have an example in Hosea of a spouse forgiving adultery in Hos. 3:1. "Then the Lord said to me, 'Go again, love a woman who is loved by her husband, yet an adulteress.' " Then in 1Cor. 6:9-11, when God refers to adulterers and fornicators, He says: "And such were some of you; but you were washed, but you were sanctified, but you were justified in the name of the Lord Jesus Christ, and in the Spirit of our God." We are washed in His blood of forgiveness.
Yet, too many pastors say that adultery is grounds for divorce. "You have heard that it was said, 'You shall not commit adultery'; but I say to you that everyone who looks on a woman to lust for her has committed adultery with her already in his heart." Matt. 5:27-28. If it were true that adultery was grounds for divorce, then most women could divorce their husbands since most of us have lusted over pictures of women on television or in magazines!
If you have committed adultery, you must confess your sin to your wife if she is unaware of your unfaithfulness. "He who conceals his transgressions will not prosper, but he who confesses and forsakes them will find compassion." Prov. 28:13.
Isn't remarriage okay if it's under the right circumstances?
Again, we believe that too many churches and pastors say that divorce is right in some situations, but this verse clearly says, "Whoever then annuls one of the least of these commandments, and so teaches others, shall be called least in the kingdom of heaven; but whoever keeps and teaches them, he shall be called great in the kingdom of heaven." Matt. 5:19. Therefore, we, as teachers of the word will not annul, in other words, say that the verses about divorce are not valid.
How can I be sure that what this book says is right and what many of the churches are saying is wrong? The Scriptures warn us to "Beware of the false prophets, who come to you in sheep's clothing, but inwardly are ravenous wolves. Many will say to Me on that day, 'Lord, Lord, did we not prophesy in Your name, and in Your name cast out demons, and in Your name perform many miracles?' And then I will declare to them, 'I never knew you; Depart from Me, you who practice lawlessness.' " Matt. 7:15-23. Aren't many of the marriages in your church crumbling and the families dissolving? These, we believe, are the bad fruits from allowing divorce within the church.
I have found in talking to pastors about this issue that many of them personally feel a "deep down" conviction about marriage, but don't want to "offend" anyone, especially all those "church members" who are in their second and third marriages. Sadly, one who did finally take a stand in his church was met with a church division from those who were in second and subsequent marriages. They did not appreciate their pastor taking this firm stand on divorce and remarriage! However, when faced with making a decision, we must remember, "Friendship with the world is hostility toward God. Therefore whoever wishes to be a friend of the world makes himself an enemy of God." Jas. 4:4.
Ears tickled. If a pastor or church takes a stand against divorce and remarriage, they are labeled legalistic or judgmental. And those who want to "do their own thing" will go to another church to hear what they want to hear (to have their ears tickled). "For the time will come when they will not endure sound doctrine; but wanting to have their ears tickled, they will accumulate for themselves teachers in accordance to their own desires; and will turn away from the truth, and will turn aside to myths." 2Tim. 4:3-4.
Since I'm already divorced or single again,
couldn't I remarry or at least date and then ask God to forgive me?
First of all, you are not really single. Only someone who has never been married (or a widow or widower) is single. Secondly, you will reap what you have sown. "Do not be deceived, God is not mocked; for whatever a man sows, this he will reap also." Gal. 6:7. You are willfully entering into sin. "Therefore to one who knows the right thing to do and does not do it, to him it is sin." Jas. 4:17.
A terrifying thing. You'll set yourself up for God's vengeance. "For if we go on sinning willfully after receiving the knowledge of the truth, there no longer remains a sacrifice for sins. How much more severe a punishment do you think he will deserve who has trampled under foot the Son of God. Vengeance is mine, I will repay. The Lord will judge His people. It is a terrifying thing to fall into the hands of the living God." Heb. 10:26-31. God will not be mocked. You will not benefit from ignoring God's Word, nor by trading obedience for a "better marriage" (or relationship) with someone new.
If You Love Me
In closing, "If anyone advocates a different doctrine and does not agree with sound words, those of our Lord Jesus Christ, and with the doctrine conforming to godliness, he is conceited and understands nothing; but has a morbid interest in controversial questions and disputes about words, out of which arise envy, strife, abusive language, evil suspicions, and constant friction between men of truth." 1Tim. 6:3-5. "If you love Me, you will keep My commandments." John 14:15. If you say you believe God, then obey Him. "Why do you call me Lord and not do what I say?" Luke 6:46. If you have decided to ask Jesus for your salvation but are not following His teachings, then He is not your Lord and Master. If He is your Lord, then be sure that you act like it. Obey Him!
Let us make a personal commitment to
SEEK THE LORD
and encourage all others to do the same!
Personal commitment: to seek the Lord as to whether I am to restore my present marriage. "Based on what I have learned from God's Word, I commit to ask God whether or not I am to restore this marriage. I will lay aside my will, wanting only His will since He is my Lord. I will never judge anyone who is in a second or subsequent marriage, but acknowledge that the blood of Jesus is able to cover the sin of adultery."
Please start a JOURNAL with the LORD in mind what you're learning each day for the next 30 days to "Restore Your Marriage."  
The more you pour your heart out into these forms, the more God and we can help you. These forms will also help you and your ePartner for accountability. CLICK HERE