Audio: Chapter 2 "We are the Clay"
.
Chapter 2 "We are the Clay"
 "We are the Clay,
and Thou our potter;
And all of us are the work of Thy hand."
—Isaiah 64:8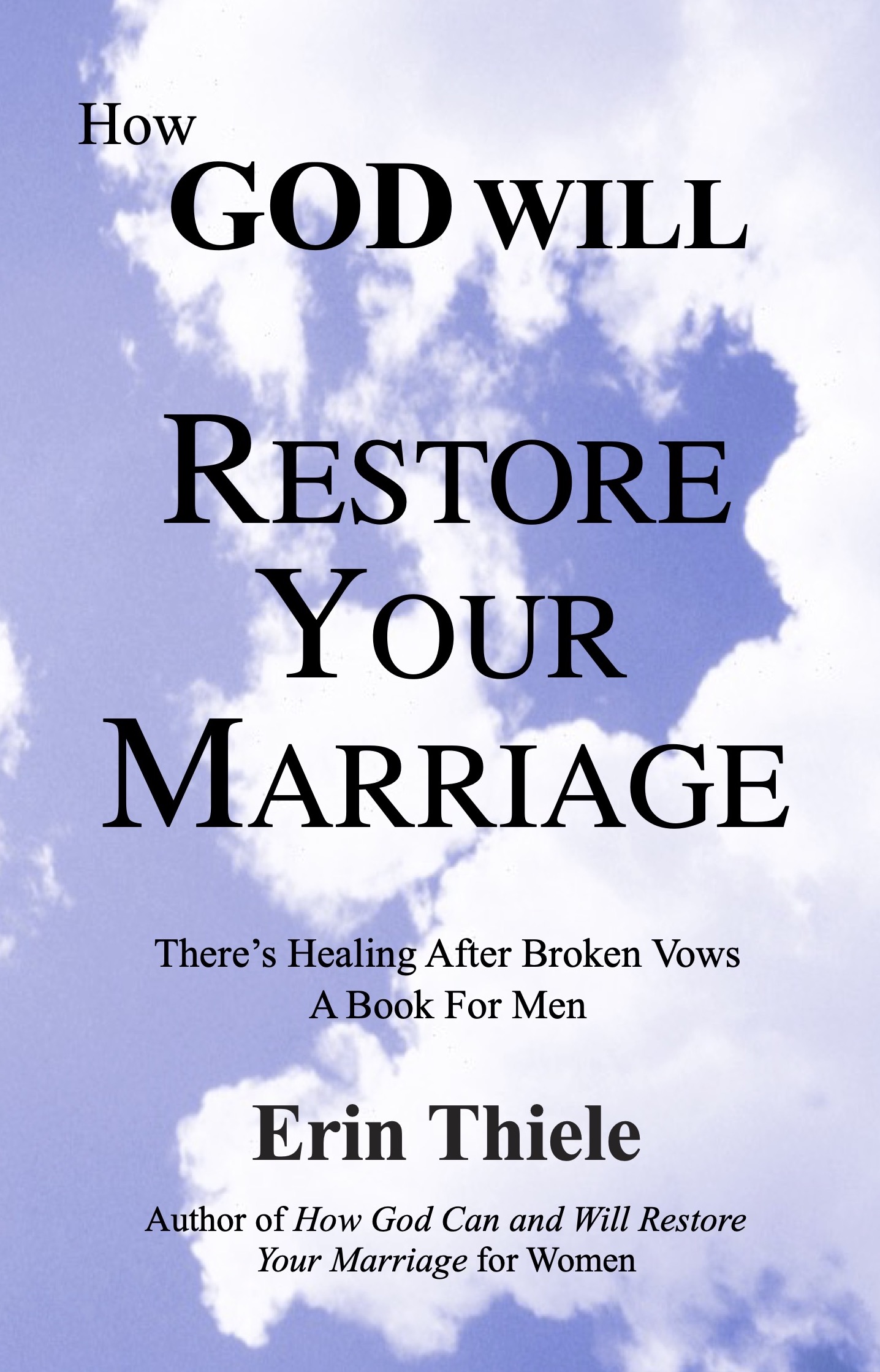 When you are going through a marriage crisis it is so easy to focus on what your wife is doing to you. However, as long as you do this you will struggle and never come to victory. You will learn in an upcoming chapter, "Weapons of our Warfare," that your wife is not the enemy.
Let us learn, in this chapter, that God many times is not changing our wives because God is using the things our wives are doing as the potter's wheel and His hands to mold us more into His image. However, if we complain because we would rather He use something or someone else, not our wives, not finances, and not our marriages as His wheel, we will wander in the desert land for years!
Quarrel with his Maker? " 'Woe to the one who quarrels with his Maker' – An earthenware vessel among the vessels of earth! Will the clay say to the potter, 'What are you doing?' Or the thing you are making say, 'He has no hands'?" Isa. 45:9. Let God be God. Instead of complaining about "how" or "whom" He uses to irritate us into finally seeking Him to change us – praise Him for His faithfulness! He is determined to bring you forth as a handsome vessel ready for His use.
But you don't understand. Many men tell us, as we try to encourage them, that we "just don't understand!" In many ways we do understand, yet they are right that no one except Jesus really understands. "Shall the potter be considered as equal with the clay, that what is made should say to its maker, 'He has no understanding'?" Isa. 29:16. Talk to Him about your situation and allow Him to give you peace. He knows what's best for you, so work with Him.
You are in His hand. "Behold, like the clay in the potter's hand, so are you in My hand." Jer. 18:6. Isn't it comforting to know that you are in God's Hand? Though your wife may tell you that she doesn't care for you anymore, or treat you as if she doesn't, your Lord does. Who else do you need? The truth is that your wife does care. She is hurt and deceived, but she does care for you down beneath those hurts.
God's Prescription
God has a prescription for healing a nation or a family. He says "If My people who are called by My name humble themselves and pray, and seek My face and turn from their wicked ways, then I will hear from heaven, will forgive their sin, and will heal their land." 2Chr. 7:14.
God told us that if we humble ourselves, pray, seek His face (not His hand) AND turn from our wicked ways, THEN HE WILL hear, forgive and heal us. Instead, we "walk in the counsel of the wicked" (Ps. 1:1) and "trust in mankind" (Jer. 17:5), so now we suffer the consequences – superficial healing! "The brokenness of His people is healed superficially." Jer. 8:11. "And they have healed the brokenness of My people superficially, saying, 'Peace, peace,' but there is no peace." Jer. 6:14.
Instead we are to die to self. "…and He died for all that they who live should no longer live for themselves, but for Him who died and rose again on their behalf." 2Cor. 5:15.
Only the Humble
Humble yourself. Self-willed, haughty people understand the Word without the Spirit, but to know the mind of God we need humility!
Humility will be tested. "…He might humble you, testing you, to know what was in your heart, whether you would keep His commandments or not." Deut. 8:2.
Humility will save you. "When you are cast down, you will speak with confidence and the humble person He will save." Job 22:29.
Humility will strengthen your heart. "O Lord, Thou hast heard the desire of the humble; Thou wilt strengthen their heart, Thou wilt incline Thine ear." Ps. 10:17.
Only the humble will be exalted. "He has brought down rulers from their thrones, and has exalted those who were humble." Luke 1:52.
Only the humble will be given the grace that they need. "But He gives a greater grace. Therefore it says, 'GOD IS OPPOSED TO THE PROUD, BUT GIVES GRACE TO THE HUMBLE.' Humble yourselves in the presence of the Lord, and He will exalt you." Jas. 4:6, 10.
Humility is rooted in the spirit. "To sum up, let all be harmonious, sympathetic, brotherly, kindhearted, and humble in spirit." 1Pet. 3:8. Your false humility will be manifested in a self-righteous attitude. It will surface in anger and bitterness toward your wife and others.
Spiritual arrogance. Over half of those who come to our ministry for help to restore their marriages exhibit spiritual arrogance or self-righteousness. This is what we refer to as a Pharisee spirit. Men, this is so dangerous. It WILL prevent God from moving your marriage toward restoration and it is what is really driving your wife away.
God showed us, in His Word, that Jesus was only harsh, critical, and opposed to one set of individuals – the Pharisees! There are so many Christians who pretend to be spiritual on the outside but are filthy on the inside. There are so many Christians who look at their wives' sins yet neglect to look at the logs in their own eyes. Is this you? Do you look at what your wife has done or is doing and neglect to see your anger, bitterness, harshness and arrogance?
Others may look at you now as the "poor victim" who has been walked out on and cheated on. Do they see you as the one desperately trying to hold your marriage together? Are you seen as the one waiting, with open arms, to forgive your wife, "the sinner," "the harlot," when she comes to her senses by repenting and coming back home from the far country! Scribe, Pharisee, "white-washed tomb"!!
If you can identify with this sinful and prideful mindset, if this is you, I would beg you to get on your face before God and ask Him to cleanse you of this attitude that will not only inhibit restoration, but will also put you in opposition to a sincere and intimate relationship with God.
Pray! Begin by praying Psalm 51:2-4. "Wash me thoroughly from my iniquity, and cleanse me from my sin. For I know my transgressions, and my sin is ever before me. Against Thee, Thee only, I have sinned, and done what is evil in Thy sight, so that Thou art justified when Thou dost speak, and blameless when Thou dost judge." There is much more on praying in the last two chapters of this book.
Seek My face. "If My people who are called by My name humble themselves and pray, and seek My face…" 2Chr. 7:13. "Seek the Lord and His strength; Seek His face continually." 1Chr. 16:11. "…seek My face; in their affliction they will earnestly seek Me." Hosea 5:15.
They were radiant. "They looked to Him and were radiant, and their faces shall never be ashamed." Ps. 34:5. Seek His face! So many seek His hand (what He can do for "me"). But those who seek the face of God will inherit all things!
Turn from your wicked ways. "If My people who are called by My name humble themselves and pray, and seek My face and turn from their wicked ways…" 2Chr. 7:13. Scriptures are not only for the head; they are for the heart and the will. To get the real impact of Scripture, we must surrender our lives and our wills to the leading of the Spirit. We must be willing to be made over. We must yield to Him.
To obey is better than sacrifice. "Behold, to obey is better than sacrifice, and to heed than the fat of rams. For rebellion is as the sin of divination, and insubordination is as iniquity and idolatry." 1Sam. 15:22. Do you know the right thing to do, yet you do not do it? Obey Him! "Therefore, to one who knows the right thing to do, and does not do it, to him it is sin." Jas. 4:17.
Walk in the Spirit
Walk in the Spirit. Being filled with the Holy Spirit will enable you to walk in the Spirit, not in sin or fleshly desires. Ask God to FILL you with His Holy Spirit right now! "And I will put My Spirit within you and cause you to walk in My statutes, and you will be careful to observe My ordinances." Ezek. 36:27. "But I say, walk by the Spirit, and you will not carry out the desire of the flesh." Gal. 5:16.
Pray. "If My people who are called by My name humble themselves and pray…" 2Chr. 7:13-16.
We can always trust God to bring about everything for our good if "…we know that God causes all things to work together for good to those who love God, to those who are called according to His purpose." Rom. 8:28.
What "Condition" Needs to Be Met to Be Heard?
Conform your desires to His will. Jesus' promise is based on this condition: "If you abide in Me, and My words abide in you, ask whatever you wish, and it shall be done for you." John 15:7. When your heart rests in Jesus alone and your will is centered in His will, you are truly making Him Lord. And to know His will is to know His Word. It is His will that your marriage be healed. He hates divorce and we are to be reconciled; however, He has conditions.
The condition for every blessing. Each promise given by God has a condition for that blessing. Many will claim a portion of the Scripture, yet omit or overlook the conditions.
Condition: "Believe on the Lord Jesus…
Promise: and you shall be saved." Acts 16:31.
Condition: "Delight yourself in the Lord…
Promise: and He will give you the desires of your heart." Ps. 37:4.
Condition: "Train up a child in the way he should go…
Promise: Even when he is old he will not depart from it." Prov. 22:6.
Condition: First, "to those who love God." And secondly, "to those who are called according to His purpose."
Promise: "And we know that God causes all things to work together for good…." Rom. 8:28.
Personal commitment: to allow God to change me. "Based on what I have learned from God's Word, I commit to allowing God to change me through whatever means or through whomever He chooses. I will focus my attention on changing myself rather than my wife or others around me."
Please start a JOURNAL with the LORD in mind what you're learning each day for the next 30 days to "Restore Your Marriage."  
The more you pour your heart out into these forms, the more God and we can help you. These forms will also help you and your ePartner for accountability. CLICK HERE