You've Been Given a GIFT
Even though you discovered us in the depth of your despair, in the very same way we all discover RMI and/or the Restore Your Marriage book, we can PROMISE you that very soon, you will begin to understand how this crisis, whatever crisis it is—is HIS gift to you!!
We are Here to Help
Whether you're here due to illness or depression or financial crisis or, most often due to one of many common drama-ridden relationships—most often your marriage...we are here to help ENCOURAGE not discourage you—and especially not tell you what you've heard from everyone in the world that's kept you consistently in crisis.
If you are interested in trusting GOD to Restore your Marriage, the first step is to READ How God Will Restore Your Marriage: There's Healing After Broken Vows. If you'd like the book Next, keep yourself spiritually fed with encouragement. You'll find this on EncouragingMen.ORG/menu that's always pinned to the top of the blog. FYI, most of the promises and principles in RYM apply to every one of your relationships, even with a boss or neighbor, or coworker.
As an Encouraging Wise Man, we are excited for the opportunity to gather a collection to set you on a FAST TRACK toward RESTORATION.
CAN GOD restore YOUR relationship or finances or health? The simple answer is YES—absolutely!
How can we be so sure?
Because WITH GOD...
"For nothing will be impossible WITH GOD." L137
And looking at them Jesus said to them, "With people this is impossible, but WITH GOD all things are possible." Matthew 19:26
Looking at them, Jesus said, "With people it is impossible, but not WITH GOD; for all things are possible with God." Mark 10:27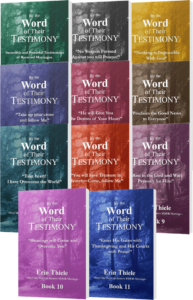 FREE "WOT" By the Word of Their Testimony eBook Series.
Simply Post Your Praise about finding RMI and/or reading RYM and letting everyone know you would love to read this series to encourage your faith in GOD'S ability to restore any marriage. That's how an Encouraging Man will know to message you with the current coupon code!
Dear Friend,
My name is Tad and I praise the Lord because He has worked in my life by restoring my marriage. Both my wife and I wrote a testimony. But more important than what He's done for me and my wife—is for YOU to grow in your relationship with the Lord, which is what will bring you instant PEACE and in His timing, your marriage restoration.
Your life is about to change—forever!!
We are glad you've found us and hope you'll take advantage of the FREE resources we want to provide you that I will share in this evaluation and also more in-depth on Where Do I Begin?
Next, please click on this link to read my testimony, "Hostility until the DAY of My Breakthrough!" so you understand I once was where you are now.
What I said in my testimony is that Jesus has saved me, not only to work in my life (and later in my wife's life), but also what led to restoring our marriage and through this same power by resurrecting it each day. Most importantly, He has worked in my own personal restoration so I can help others and hope that each day you learn, you will make sure you pass this truth on to another man you meet or know.
I not only have a restored marriage but He has brought me out of the habitual sin (addiction if you like) of pornography, adultery, lukewarmness, secrecy, deceit, wrong thinking, and pride.
If I could say one thing about my marriage, which led up to my wife divorcing me, is that I was a complete fool. I was completely ignorant of what it meant to be a husband and father. I professed Christianity but I had very little of the fruit. I had been married for four years and it had ended up in a disaster. It's only when I sat in the rubble (of my marriage), with my life that seemed to be like a building that had been bombed, that I was able to see my error once I came here and I was given the lessons.
The first time I opened a Bible to read something on marriage was when I was going through my divorce. I had been separated for ten of the twelve months that were necessary for my wife to apply for a divorce in Western Australia. It was then that in brokenness and desperation that I took the Word of the Lord and my Bible seriously.
2 Timothy 3:16-17
All Scripture is God-breathed and is useful for teaching, rebuking, correcting and training in righteousness, so that the servant of God may be thoroughly equipped for every good work.
I started to look up what the Lord expected of a Husband and every chapter that I looked up in the Bible completely pointed a finger at all my failures. I had failed on every account and it was shocking to me. I had failed because, in the four years that I had been married, I had never sought the Lord seriously. I had stayed in a marriage for four years without the wisdom and the power of the Word of the Lord.
It was also then that I found out that all of my ideas and expectations about marriage, my faith, what I thought was Christianity and the Word of the Lord were either distorted, misguided—plainly wrong or vague at best. While I was married, the word of God, through the Bible, had never been thought about, meditated upon, or seriously prayed about, or followed by me – Ever!
Psalm 119:9-16
How can a young person stay on the path of purity?  By living according to your word. I seek you with all my heart; do not let me stray from your commands.  I have hidden your word in my heart
 that I might not sin against you. Praise be to you, Lord; teach me your decrees.
With my lips I recount all the laws that come from your mouth. I rejoice in following your statutes as one rejoices in great riches. I meditate on your precepts
 and consider your ways. I delight in your decrees; 
 I will not neglect your Word.
In addition, following counsel from another Christian at this time, I joined a new Church and this confrontation of my failure went on even further to completely expose more of my foolishness.
The first few sermons I attended at this new church were about the sin of pornography/lust and how the word of God was needed in marriages. It was really hard to sit in that church and get more confronted about my sin. But I knew I had to "stick it out" this time as I had just had enough of blame-shifting and not dealing with my failures/sins in the past. I just could not go back to that sinful lifestyle. After all, what had I gained by a sinful and foolish lifestyle? -Nothing! What had I lost? -Everything!
Psalm 119:25-28
I am laid low in the dust; preserve my life according to your word. I gave an account of my ways and you answered me; teach me your decrees. Cause me to understand the way of your precepts, that I may meditate on your wonderful deeds. My soul is weary with sorrow; strengthen me according to your word.
Psalm 119:37-40
Keep me from deceitful ways; be gracious to me and teach me your law. I have chosen the way of faithfulness; I have set my heart on your laws. I hold fast to your statutes, Lord; do not let me be put to shame.
Turn my eyes away from worthless things; preserve my life according to your word. Fulfill your promise to your servant so that you may be feared.
Take away the disgrace I dread,
 for your laws are good.
How I long for your precepts! In your righteousness preserve my life.
Remember your word to your servant, for you have given me hope.
I started to attend one of the men's groups in church, primarily to pray and to read the Word of God daily. While you are alone, be sure to use this time that has been graciously afforded to you. And if you'd like to be paired with another man or two, be sure to finish reading the required resources, then you are welcome to fill out the ePartner application. For now, let me assure you that having the Lord solely is a great place to be.
Sometimes for extended periods of time, even for hours, I set fixed prayer times throughout the day and started to worship during that time and other times too. Almost immediately I could feel this radical change happening deep in my heart once I had been humbled by the exposure of my sin, my Pharisee-like lifestyle and was leaving that life of sin. It was like surgery in my spirit (and I know seems strange to say).
It was also during this time that I found out about marriage restoration, recovery from pornography and adultery from a Christian. I learnt that the Word of God is all-sufficient to correct everything. In other words, the Word of God is complete for every situation, every circumstance and every facet of life. The Word of God then became my hope, my healing, my deliverance, my salvation, my maturity, and my promised land.
I have to tell you that it was not easy because I lived with non-Christian roommates and also worked with non-Christians who thought I had "lost it". It was actually the opposite, I had found hope! It was during this time that I started to believe that the hopelessness of my marriage and all my sins was not beyond the Word of God, or the power of God to redeem and to repair.
I'm sure most of this you can relate to. More than likely you too are surrounded by many people who think you've lost it. But, Brother, I hope you will learn that losing your life is when you will find it.
Matthew 16:24-25
"Then Jesus said to His disciples, 'If anyone wishes to come after Me, let him deny himself, and take up his cross, and follow Me. For whoever wishes to save his life shall lose it; but whoever loses his life for My sake shall find it.'"
So I want to encourage you to learn the Word, in your bible and also in the books you've received from this ministry. Daily read it and meditate upon all its truth, but most importantly become a doer of it. Please allow the Word to search your heart and soul and to reach all aspects of your life. I found that this was my only hope. His Word revived me and kept me going. The Word will do this for you and so much more. Jesus said we live by the Word of God when Satan tempted Jesus; He quoted the Word— how right He was! True Hope, real change, amazing resurrection, awesome awakening, and authentic spiritual nourishment is what you will find in His Word.
Psalm 119: 66- 68
Do good to your servant
 according to your word, Lord. Teach me knowledge and good judgment, for I trust your commands. Before I was afflicted I went astray, but now I obey your word. You are good, and what you do is good; 
teach me your decrees.
Psalm 119: 71- 74
It was good for me to be afflicted
so that I might learn your decrees.
The law from your mouth is more precious to me than thousands of pieces of silver and gold. Your hands made me and formed me; give me understanding to learn your commands. May those who fear you rejoice when they see me, 
 for I have put my hope in your word.
Psalm 119: 80
May I wholeheartedly follow your decrees, that I may not be put to shame.
Lastly, my restoration began to fall apart but I had no idea why, until He showed me how I ignored where I was tithing to. Not where I'd been spiritually fed, here, my storehouse. But where I was attending church.
So, my hope is that you'll take advantage of our free online courses that we found will greatly expedite your restoration process when you use the built-in Journal and prepare you to help other men—but also you'll avoid the huge mistake I made by not tithing here to my storehouse until my restoration began to fall apart.
"'Bring the whole tithe into your STOREHOUSE, so that there may be food in My house, and test Me now in this,' says the Lord of hosts, 'if I will not open for you the windows of heaven, and pour out for you a blessing until it overflows. THEN I will rebuke the devourer for you, so that it may NOT destroy the fruits of the ground; nor will your vine in the field cast its grapes,' says the Lord of hosts." Malachi 3:10–11. You will learn MORE about tithing and the power of giving an offering in Day 24 Chapter 17 "Opening the Windows of Heaven" that will help if you're struggling financially.
Be released from your PRISON of fear and worry and despair... Consider reading Prison to Praise to learn and use the principle of "praise in all things" that brings results that can only be explained as miraculous, then regularly Submit Praise Reports to encourage other men, which you'll see is built into Course 1.
https://encouragingmen.org/c1/
And what we use to build another resource— our Men's Encourager BLOG.
Thankfully, the Portuguese speaking men are taking advantage of the resources and a few are tithing or giving an offering if they are attending a church and are primarily spiritually fed there— and as a result, we are getting much in the way of praise, so please be sure to invest your time and heart into this free course and don't forget to give your 10% back to the Lord. To learn more, go to Surrender and Trust.
Remain Encouraged,
EncouragingMen.org
HopeAtLast.com
EncouragingBookstore.com
Men's Encourager