♕ Today's Promise: "You will make known to me the path of life; In Your presence is fullness of joy; In Your right hand there are pleasures forever." Psalm 16:11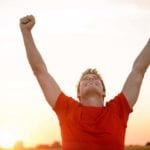 I've been so happy lately. I remember reading in one of the Erin courses about Abundant Life, and I thought it was a very distant thing from me. But what I have been experiencing with Him is being wonderful! Thank you my Beloved for taking such good care of me.
As soon as I moved in with my daughter, I asked Him for a wedding ring. I'd lost my ring years ago, but I wanted something to wear to remind me I am a married man and am not single or available. I simply gave the request to Him, and trusted Him if it was His will. Yesterday walking around town, I saw a new store that opened and I entered without thinking. I tried on a beautiful ring as I had imagined and it didn't want to leave my finger!
(Laughter) In addition, the price was very affordable. So I left the store in awe of my new ring that speaks volumes! Thank you again, my Lord.
"What no one has ever seen, nor heard, and never grieved, is what God has prepared for those who love Him" (1 Cor 2: 9)
~ Juan