♕ Today's Promise: "as far as the east is from the west, so far does he remove our transgressions from us." Psalm 103:12 (ESV)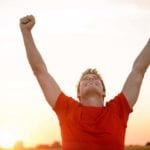 Dear Brother,
I hope you are still in the fight after all, the battle belongs to the Lord- all you must do now is show up! Now, I know you have been badly injured, even scarred, you may be the victim of your wife's actions but I want you to forgive everybody who has wronged you, your wife, past mistakes,  past bosses-EVERYBODY!
Mark 11:25
And whenever you stand praying, forgive, if you have anything against anyone, so that your Father also who is in heaven may forgive you your trespasses."
Matthew 6:15
but if you do not forgive others their trespasses, neither will your Father forgive your trespasses.
Hold nothing against anybody because unforgiveness and bitterness are a prison for you! Refusing to let go is basically putting yourself in a cage, locking it and throwing away the keys!
One of us had such an experience with the Lord very recently. He found out some things that his wife had been up to which were previously unknown to him and he wanted to tell everybody what she had been up to. He was having trouble sleeping because he was so bitter about all these things. He called a brother in RMI for prayer to enable him to go to sleep. When his prayer partner went into tongues, low and behold! The Lord himself appeared to the other man. This was not one of those lovely encounters with the Lord with striking good conversation. No! It was a blinding and humbling experience where the Lord told the man who had been offended by his wife, "you have become an accuser and You have no humility!"
The presence of the Lord was overwhelming and terrifying when the Lord continued to put a finger on him and said,  "I want you to give me all these things that you have found out today and never bring them up!" The man found it very hard because he felt he had a right to expose his wife. However, the Lord said to him, "Are you going to release these things or not?"
All he could do was raise his hands in his bed crying, "create a clean heart in me O Lord". At that point, the man felt a physical opening of his chest and something hard getting removed. Before the Lord left him  he said to him,  "Your fast is over now, start eating tomorrow."
What I'm getting at is how the Lord caused the man through conviction of  the need to let go of everything  he had found out, that this was the most important thing at that time. He had no right to accuse because he was full of bitterness himself.
So today forgive everybody who has wronged with you, even if it means you forgive them over and over and over. Remove their actions and words from your mind and heart. Ask for the power of the Holy Spirit to help you. Never bring up what they did against you ever again. The Lord will never bring up what you have done-he does not expect you to either
Psalm 103:12 (ESV)
as far as the east is from the west,
so far does he remove our transgressions from us.
Once again, bitterness and unforgiveness are a prison that you create for yourself, put yourself in and throw away the keys. Set yourself free today, unblock your prayers and be free!
Matthew 18:34-35
And in anger his master delivered him to the jailers, until he should pay all his debt.
So, also my heavenly Father will do to every one of you, if you do not forgive your brother from your heart."
~ Tad RESTORED in Australia
If you haven't already done so, please take a moment to read my testimony and then my wife's encouragement.