♕ Today's Promise: "For you bless the righteous, O Lord; you cover him with favour as with a shield." Psalm 5:12 (ESV)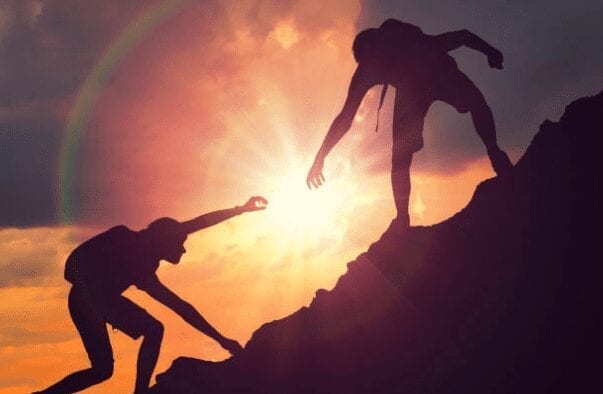 Words of Encouragement
Dear bro,
I hope you are hanging tight because this time I want you to remember you have a friend in high places.  You are extremely aware of how people like to brag about knowing other people in high places who they may call on for a favour?
I want you to know that you have more than that! You have the King of the universe ready to fight for you if you believe and have accepted Him as Lord of your life, and then continue to follow Him.  One singer says this "the fight is fixed, I know I will win, I won't give in, because I am more than a conqueror!" (I hope you have an arsenal of worship music!).  We are more than conquerors through the victory Jesus won on the cross.
When we stand up against the works of the enemy, it is in and through Jesus that the victory is won, we need to enter the battle - spiritual warfare – prayer
The Armor of God - Ephesians 6:10-20

Finally, be strong in the Lord and in his mighty power. Put on the full Armor of God, so that you can take your stand against the devil's schemes. For our struggle is not against flesh and blood, but against the rulers, against the authorities, against the powers of this dark world and against the spiritual forces of evil in the heavenly realms. Therefore put on the full armour of God, so that when the day of evil comes, you may be able to stand your ground, and after you have done everything, to stand. Stand firm then, with the belt of truth buckled around your waist, with the breastplate of righteousness in place, and with your feet fitted with the readiness that comes from the gospel of peace. In addition to all this, take up the shield of faith, with which you can extinguish all the flaming arrows of the evil one. Take the helmet of salvation and the sword of the Spirit, which is the word of God. And pray in the Spirit on all occasions with all kinds of prayers and requests. With this in mind, be alert and always keep on praying for all the Lord's people. Pray also for me, that whenever I speak, words may be given me so that I will fearlessly make known the mystery of the gospel, for which I am an ambassador in chains. Pray that I may declare it fearlessly, as I should.
This cannot be emphasised enough - Your battle is not with your wife!
For our struggle is not against flesh and blood, but against the rulers, against the authorities, against the powers of this dark world and against the spiritual forces of evil in the heavenly realms.
Believing that God is for us, standing on the promises God has given us individually or through RMI for in this instance our marriages.
Daniel I:9
And God gave Daniel favour and compassion in the sight of the chief of the eunuchs,
He gave Daniel favour amongst people who were against him.
The Lord owns everything and ultimately has control over everything, we do not need to worry as long as we know Him. He is always working for us so that others can see His glory through our hopeless situations.
Psalm 24:1-2 (TLB)
The earth belongs to God! Everything in all the world is his! He is the one who pushed the oceans back to let dry land appear
2 Kings 6;17-18
And Elisha prayed, "Open his eyes, Lord, so that he may see." Then the Lord opened the servant's eyes, and he looked and saw the hills full of horses and chariots of fire all around Elisha. As the enemy came down toward him, Elisha prayed to the Lord, "Strike this army with blindness." So, he struck them with blindness, as Elisha had asked.
Again, when Elisha had an army coming against him and Israel, he was not worried about an escape plan. His servant was stressing!  Elisha's response was to ask the Lord to open the servant's eyes so that he may see the army of angels the Lord had sent to fight for them.
If you are having a hard time trusting God and His favour amidst the turmoil you are in, consider once again your salvation. Even while we were sinners and in our worst condition, Christ died for us. If God would be willing to be so gracious to us when we were still His enemies, we know that He has taken our burdens on himself and given us His yoke which he promises is lighter.
Matthew 11:30
For my yoke is easy, and my burden is light."
We have Angels fighting for us, this is how confident you should be because you know the Lord sits on his throne, he has not abandoned it ,he is not gone for a rest, He is weighing everything out for your favour. This favour is so good it's Unfair and unmerited when you are with Him!
Genesis 39: 21
the LORD was with him and extended kindness to him. He granted him favour in the eyes of the prison warden,
Psalm 5:12 (ESV)
For you bless the righteous, O Lord; you cover him with favour as with a shield.
Lastly this unmerited favour will follow when you depend on Him and not on your own strength and your own ways. Seek Him, praise Him and be with him, remain in Him and you have favour.
I would seek to remind you that in all these cases quoted above, these men actively placed God first in their lives. They did not rely on their own nature or works to seek justification or favour, no, in fact all were in places where they could not influence the circumstances themselves.  Only upon realising that were they able to receive God's unmerited favour.
In your desert journey, be ready to realise that there is nothing you can do to change your spouse, just continue to pray for her.
Lord we pray now over our Brothers and Sisters in Christ who are at present undergoing the turmoil of separation in their marriage, that they would turn to you alone for their answers, that you would become the goal of their search.  That as they fall in love with you, as they surrender their very existence to you, they will see their spouse and their family returned, not as was, broken and devastated, but whole and renewed in Christ.
Lord we pray that the men reading this would recognise that in Christ alone is the answer to their problems. That if they have any doubt about their salvation they would bow the knee and acknowledge your death on the cross, burial and resurrection and forgiveness of their sins if they repent of their sins, and declare with conviction that Jesus Christ is now Lord of their lives.
Ephesians 6:10
Finally, my brethren, be strong in the Lord, and in the power of his might.
~ Tad RESTORED in Australia
If you haven't already done so, please take a moment to read my testimony and then my wife's encouragement.